Guardian Heroes
Tags: treasure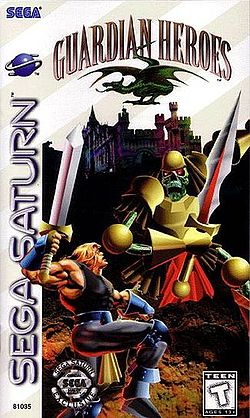 2,120 Views
1 Stories

Release Date: Jan 25, 1996
Guardian Heroes is a 2D side-scrolling beat 'em up and hack & slash action RPG video game in the vein of Final Fight or Golden Axe. The game features RPG elements. Guardian Heroes was developed by Treasure and released in 1996 for the Sega Saturn video game console. A sequel was released in 2004 for the Game Boy Advance entitled Advance Guardian Heroes.
Guardian Heroes is often considered to be one of the greatest games for the Sega Saturn and the beat'em up genre by both critics and fans. The game allowed players to alter the storyline through their actions, such as choosing between a number of branching paths leading to multiple endings and through the Karma meter which changes depending on whether the player kills civilians or shows mercy to enemies. Its music was also praised, combining electronically composed tracks with electric guitar and saxophones. The music was composed by Hideki Matsutake, a former member of electronic music band Yellow Magic Orchestra, and Nazo Suzuki.
On May 5, 2011, SEGA announced it would release the game with HD-enhanced visuals and online play (both co-op and battle modes) on Xbox Live Arcade.
Recent Stories
Gallery
Links
Trending Video Games