Coming Soon
Deals

By: BatRastered Apr 25 (3 days ago) | 4 Comments
Buy games get codes!
Square-Enix today announced that you can get some cool galmour and a mount in Final Fantasy XIV just from buying some goods from Amazon. (May I suggest pre-ordering the Stormblood expansion?)
FINAL FANTASY XIV and Amazon.com® are partnering to offer a unique opportunity for North American FINAL FANTASY XIV players! Qualifying orders of $19.99 or more on video games (purchase or pre-order) on Amazon.com will earn you an Amazon.com promotional code that, when redeemed, will grant you three Eastern-themed in-game items!
The items include:
A staff (Lancer/Dragoon main weapon) and a new glamour

and the previously JP exclusive cloud mount!

Pre order now!
News

By: goukijones Apr 25 (3 days ago) | 0 Comments
Available September 19, 2017. Here's your first look at some more new and old characters appearing in Marvel VS Capcom Infinite.
Personally, I'm really hoping this isn't just Marvel VS Capcom 3, part 3, but... It's really starting to look that way. I love the two new bad guys from the series. Sigma from Megaman and Ultron from Marvel. There's still Chris Redfield, Thor, Strider, Rocket Raccoon... There's is like 0 gameplay in this video, I guess we'll be waiting close to E3 to see anything or even maybe EVO. Anybody taking bets on the 9.19 release date being pushed?
Here's a cap from the Collector's Editions items. Pretty cool.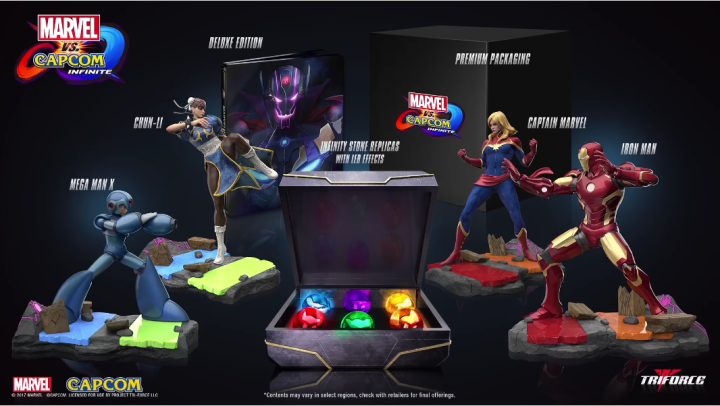 Marvel and Capcom will definitely be going after Marvel fans and Marvel VS Capcom fans later this year. I believe that Marvel and Capcom will be pushing this game hard, now that we see Marvel has been backing it fully. I have a question though... will this be a caliber game that Capcom will include in the Capcom Cup next year? Is this something that Marvel wants, to be a part of eSports now? Can't wait to see how this is played out when Marvel VS Capcom 3 is released later this year.
Video

By: goukijones Apr 7 (21 days ago) | 0 Comments
Video

By: goukijones Mar 28, 2017 | 0 Comments
Every Friday night 9PM PST It's map night. Dragonskin style. This night we were lucky enough to be led by SugarNinja through the 7 floors of the Aquapolis. Great run, tons of loot.
Video

By: goukijones Mar 24, 2017 | 0 Comments
I haven't opened ONE of the free packs I've collected in Halo Wars 2 since the game was released.
Halo Wars 2 is great. I love it, I'm on my way to level 50. Since the game was released I have completely skipped playing Blitz. I haven't played once. The last time was during the Blitz Beta earlier this year. In Halo Wars 2, you get card packs for just playing the game (mulitplayer, campaign, blitz, etc). You can buy them too, but you can also earn them. That's nice. I've earned over 99+ regular packs, including all the special packs for playing in the beta, Forge and even Kinsano packs will be included in this mass opening.
One thing I'd like to note. I made this video the DAY Kinsano was released. PRO-TIP if you're a Blitz player and are waiting for a specific character, then HOLD your packs. I was getting Kinsano cards immediately throughout out all the packs.
Please let me know what you think in the comments below. If you are playing the Halo Wars 2, hmu on XBL. Don't be a Jimmy!
Must See
Top 10 Video Games