Featured Stories
Posted by: goukijones Jan 7, 2016 - Get ready to go to Orlando & Las Vegas, courtesy of Gouki.com & Anime Revolution. More...
311 Views | 0 Comments
Coming Soon
Blog

By: goukijones Feb 11 (2 days ago) | 15 Views | 0 Comments
Come play the new Street Fighter V at Anime Revolution in the Miracle Mile Shops at Planet Hollywood. Tuesday February 16, 2016. #FMIWT
1:00PM-9:00PM.
This event is FREE!
We will also be doing tryouts for commentators for our entire season. This is a paid position from Gouki.com and Anime Revolution. Interviews and tryouts will be available all day.
#FMIWT
For Me It Was Tuesday
Street Fighter V launch. Live stream on Gouki.tv.
Check out the full schedule for the #VegasCup here.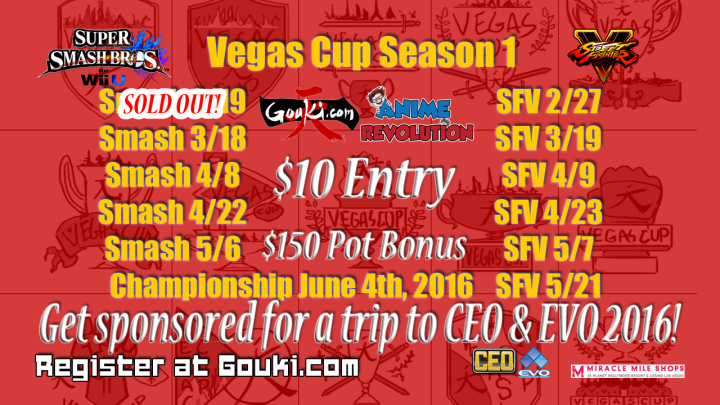 Register for the next tournament on tournaments.gouki.com
News

By: goukijones Feb 6 (7 days ago) | 9 Views | 0 Comments
Final Fantasy XV party in Los Angeles sells out in less than 24 hours. I'm going!
Final Fantasy XII is my favorite. Mostly because of the open world and the gambit system. I'm hoping XV draws a lot from that game. Everything I've seen so far has got m really pumped up for this game. So pumped up that I'm planning to attend the Final Fantasy XV Uncovered event on March 30, 2016 in Los Angeles. This event sold out in less than 24 hours.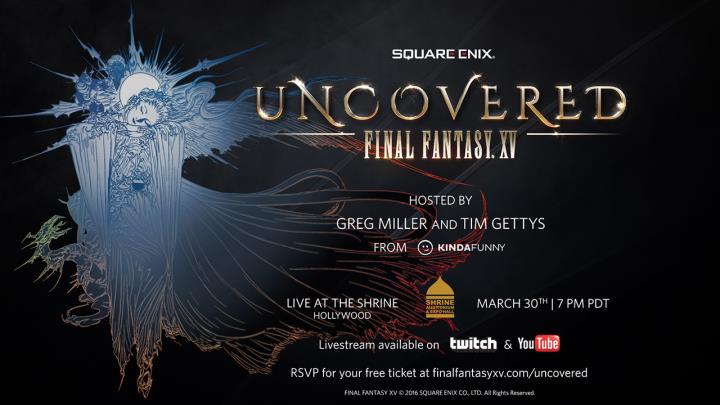 News

By: goukijones Jan 27 (17 days ago) | 29 Views | 0 Comments
9 games to choose from. How will you compete?
Evil Mr. Wizard revealed 9 games last night on the Red Bull twitch channel. He also announced that this year EVO will be at the Las Vegas convention center & that grand finals will be at the Mandalay events center. A 12,000 seat arena. The website still isn't updated, but I expect more info to drop soon & registration will open as well. Check out these tweets.
.@EvilMrWizard talks Evo 2016 games/venue, the inclusion of Pokken, and the lack of SF4: https://t.co/lEOG906Yku pic.twitter.com/Y7gN5iwy6q

— Red Bull ESPORTS (@redbullESPORTS) January 27, 2016
Best part about the convention center is that its 125,000 sq feet for the Evo room, and its all in one room! Get Hype! #Evo2016

— Joey Cuellar (@EvilMrWizard) January 27, 2016
If you need help getting around Vegas, why not hire a personal tour guide. I know a guy, he starts at $500 an hour. #dealsjimmy
A map to keep on hand. Be sure to check https://t.co/RVJGPiiwml for a PDF version for #EVO2016 in July. pic.twitter.com/fw2noVe5Hl

— Bear (PG & tG|AR) (@BearUNLV) January 27, 2016
Read full story...
Video

By: goukijones Jan 25 (19 days ago) | 7 Views | 0 Comments
That image of Guile is so funny.
That pic of Guile will be meme'd up for the rest of our lives.
Nick Going in AZ was 1 of the first.
News

By: BatRastered Jan 12, 2016 | 10 Views | 0 Comments
Release date delivery too!

Amazon now offers 20% off all newly released and pre-order video games if you're a prime member. This is in addition to the free release date delivery service that's already included. Why wait in line for a midnight release? Just have the UPS guy bring the game to your door on the day it comes out and save 20% while you do it, Jimmy!
#DealsJimmy
Must See
Top 10 Video Games