Coming Soon
Video

By: goukijones Mar 24 (1 day ago) | 0 Comments
I haven't opened ONE of the free packs I've collected in Halo Wars 2 since the game was released.
Halo Wars 2 is great. I love it, I'm on my way to level 50. Since the game was released I have completely skipped playing Blitz. I haven't played once. The last time was during the Blitz Beta earlier this year. In Halo Wars 2, you get card packs for just playing the game (mulitplayer, campaign, blitz, etc). You can buy them too, but you can also earn them. That's nice. I've earned over 99+ regular packs, including all the special packs for playing in the beta, Forge and even Kinsano packs will be included in this mass opening.
One thing I'd like to note. I made this video the DAY Kinsano was released. PRO-TIP if you're a Blitz player and are waiting for a specific character, then HOLD your packs. I was getting Kinsano cards immediately throughout out all the packs.
Please let me know what you think in the comments below. If you are playing the Halo Wars 2, hmu on XBL. Don't be a Jimmy!
Video

By: goukijones Mar 16 (9 days ago) | 1 Comments
PYROMANIACS REJOICE!
As I said in my last story, I'm not too excited about another UNSC right now. The fire abilities look great, people are going to be attracted FIRE! My advice... find a counter, because everyone is going to be using Kinsano day 1.
Blog

By: goukijones Mar 14 (11 days ago) | 0 Comments
Kinsano coming soon to Halo Wars 2.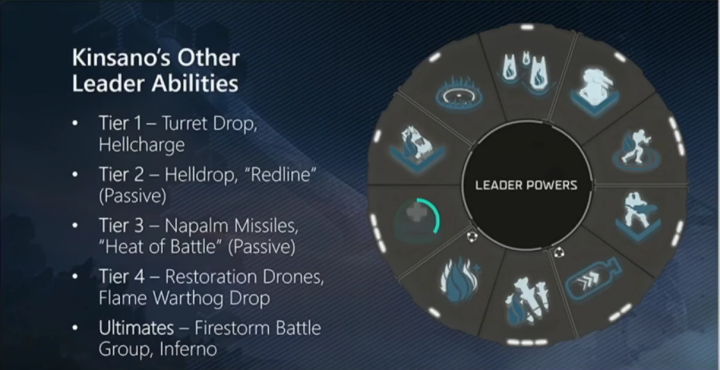 So she has a lot of abilities that deal with fire. I especially like being able to ODST drop Hellbringers. That should be a great defensive move when you're out in the middle of the field getting swarmed by foot soldiers. She's got flame hogs too, burn your shit down Jimmy. A giant fireball eruption that is a large AOE. You can see it in the video engulfing the entire base. Although I thought the Prophet was next in line... I'll try the new UNSC. Please, let's get more covenant on the field. Enough Monkeys though.
My current rankings for leaders.
Decimus
Cutter
Atriox
Forge
Anders
Isabel
Shipmaster *Shimpmaster is the worst for me.
Blog

By: goukijones Mar 13 (12 days ago) | 0 Comments
2017 is already going down in history as 1 of the greatest years in gaming of all time. Will Mass Effect continue the streak? Watch these video and let me know what you think in the comments below.
Weapons & Skills
Combat Profiles & Squads
Exploration & Discovery
Some of my random thoughts while watching the videos again.
How about using your own vehicle for cover? That will be a great tool.
No class restrictions.
Multiple different types of ammo and guns from space.
Can't help the faces in this game. So much emotion.
Biotics is my favorite because I usually bypass using ammo and with lift and warp, etc. I could avoid taking damage. Reverse jimmy style.
The favorites menu looks like I'll be setting that out for hours.
You can now see everything outside of you ship from the main bridge in real-time. Dat future tech right there.
I'm drooling over the map and driving. The worlds look dope and I can't wait to explore every square inch.
There is a new stream schedule coming out soon for Gouki.tv on Twitch. Make sure you guys tune in and watch. I will be streaming the Mass Effect. There will also be plenty of Halo Wars 2 and FFXIV. Stay tuned!
Pre-order on Amazon. #dealsjimmy
News

By: BatRastered Jan 27, 2017 | 1 Comments
June 2nd is the day
On June 2nd 2017 (making it in time for EVO it seems) you will finally be able to play Tekken 7 at home on the PS4.
Check out the announcement and trailer here:
Must See
Top 10 Video Games