Blog: Two new Naruto games are coming!
Posted by: reipuerto Aug 24, 2010 | 6 comments
Tagged: narutoshippuden
View all stories by reipuerto
---
Two new games in different system with similar style.
Atlus announced today, a new Naruto Shippuden game! One is called Naruto Shippuden: Dragon Blade Chronicles for Wii™ and NARUTO SHIPPUDEN: Naruto vs. Sasuke for Nintendo DS™. These two chapters in the NARUTO SHIPPUDEN franchise, based on the extremely popular anime series, are currently scheduled for release on November 16, 2010. Over the next few weeks certain retailers will offer special bundles, pre-order bonus items, and gifts-with-purchase for the games, making them perfect gifts for the holiday season!
"We're very excited to work with Tomy Corp. and VIZ Media to present two new NARUTO SHIPPUDEN games to fans across North America," said Tim Pivnicny, Vice President of Sales and Marketing at Atlus. "We're sure fans will have NARUTO SHIPPUDEN on their holiday wish lists as they do every year, and we're happy to bring them not only the games but also exciting bonus offers at retailers such as Amazon.com, Amazon.ca, Best Buy, EB Games Canada, GameStop, and Toys 'R' Us."
About NARUTO SHIPPUDEN: Dragon Blade Chronicles (Wii)
Take control of both Naruto and Sasuke as they go their own ways to seek out the mysteries and power behind Genryu, the mighty Elemental Dragons, in an all-new epic adventure. The world is in danger and only the power of the legendary Dragon Blade and rare elemental orbs hidden across the land can save it. As Naruto, you will use special orbs collected from the powerful Genryu to enhance your Dragon Blade with new powers, acquire new skills by finding and equipping dozens of Ninja Scrolls hidden throughout the world, and take on gigantic dragons in incredible boss battles! With two superstars in one game, you won't want to miss this amazing adventure!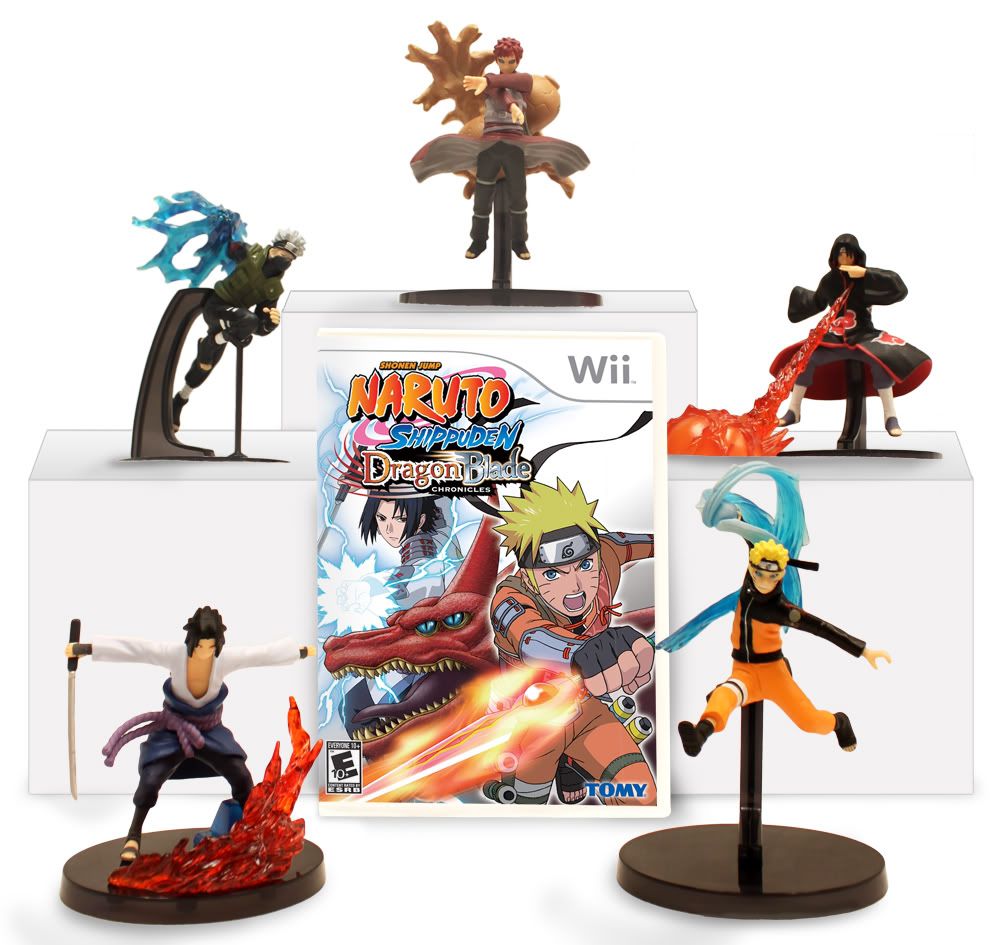 About NARUTO SHIPPUDEN: Naruto vs. Sasuke (Nintendo DS)
Experience first-hand one of the most popular storylines from the NARUTO SHIPPUDEN arc as Naruto and Sasuke face off amidst a backdrop laced with intrigue and subterfuge! Discover, recruit, and swap fighters into your team to meet the needs of any given situation. Compete against your friends in Wireless Battle Mode for up to four players, or play cooperatively in the new Boss Rush Mode (local wireless only). Take part in thrilling battles and exciting mysteries, all leading up to the epic showdown between Naruto and Sasuke!