Stories
Sort by: Most recent | Popular today | Popular this week | Most views all time | Most Liked Page 1 (1 - 3 of 3)
About: Final Fantasy XII The Zodiac Age (x)
Video

By: goukijones Jul 25, 2019 | 1 Comments
It's no secret this is my favorite Final Fantasy game. Check out this 'Making of' video.
I am planning another play through of this game. A masterful play through where I obtain all items and beat all bosses and hunts. Stay tuned to Gouki.tv for more info on this play through.
Final Fantasy XII The Zodia Age is available on all consoles. Amazon.com.
Blog

By: goukijones Aug 31, 2017 | 1 Comments
When people ask me what is my favorite Final Fantasy, I tell them it's Final Fantasy XII. And most people look at me like I'm crazy. When I ask if they've even played the game, and they say no. So… I'm telling you guys, you have to give it a shot.
This IS my favorite Final Fantasy. The world is huge and connected all throughout, you can walk from one end to the to other. Fully animated cut scenes and great voice acting bring the characters to life. I love them all. The story includes Final Fantasy Judges, Viera, magic, mystery, two brothers in conflict, betrayal, a lost boy, a thief and his co-pilot, a dead husband and powerful enemy. I love this story. (Yes, I have actually watched the story cut scenes in this game.) Most conclusively, the main reason I love FF12 is the combat has been my favorite design in any Final Fantasy. The gambit system and programming your team to react in battle is a blast. It's the main element why I've played through it 3 times. *3 times is a lot for me in my world of gaming.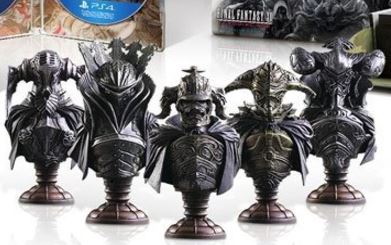 Read full story...
Video

By: goukijones May 12, 2017 | 3 Comments
My personal favorite Final Fantasy of ALL TIME!!! My HYPE is real!
Releasing July 11, 2017, you bet your behind there will be a live stream on Gouki.TV. I can't wait to play this game again. I kept a PS3 with backward compatibility in my collection for the longest time, JUST to play the Final Fantasy XII. Best combat system ever. Great characters. And an amazing soundtrack, have a listen below.
Read full story...
1