Stories
Sort by: Most recent | Popular today | Popular this week | Most views all time | Most Liked Page 1 (1 - 3 of 3)
Tagged: faq (x)
Blog

By: BatRastered Sep 12, 2009 | 16 Comments
Frequently Asked Questions about Gouki.com. You should read this before using the site. Ask questions below.
Q: How do I write a story on Gouki.com?
A: Rule number 1: Don't be a Jimmy - Don't write a story with a title people won't understand. Don't write a story that starts with a bullet point and ends with a comma. When you write a story on Gouki.com it must be about video games. Otherwise BatRastered is going to be quick to delete it. Video game stories can be about anything though. Your story must be tagged with one of the following:
Blog. Fuck it. Blog it, write about whatever you want, however you want. As long as it's video game related.
Review. Write a review that follows our rating system. It's real easy. Reviews can be for hardware or software, new releases or old ass games, including demos and beta tests.
Preview. You can post a video with a short description of a game. You could also write a story about a recent press release. These stories work best with a source attached. Remember BatRastered is watching.
News. We most certainly encourage our readers to post the news, but what we want to hear are your versions of it, your opinions. So don't just post a press release cut and paste job. Explain why you are interested in this game and why you want to share your interests with the Goukimunity.
Pictures. Want to share pictures, the best way to do that is to use any of the image sharing sites. I prefer photobucket.
Video. You only need to cut and paste the "watch url" from youtube into the body of your story. Do not paste the url into the source. After you save your story the video will appear. [See image below if nubfarm.] If you want to post a video - write a short explanation why you are posting this video and what it is about.
Read full story...
News

By: goukijones Feb 10, 2011 | 14 Comments
The number of stories a user can write per day has been increased.
The number of stories a user can write per day has been increased to encourage users to write more. Also this will help your chances with all of our giveaways.
Previously users could only write 1 story per day. I know a lot of people want to write more, just not for the giveaways, but because they are enjoying the site and want to contribute. You can now write up to 2 stories per day. As the site grows and we move further away from our beta phases we will increase the number again.
So now Don't be a Jimmy. You still gotta get them approved. Write quality reviews, previews, blogs, share videos ... Keep it classy.
Thank you for reading and writing on Gouki.com.
Blog

By: BatRastered Dec 19, 2011 | 2 Comments
A new way to keep track of your tournaments is now in Beta testing. Check it out.
NOTE: The Gouki.com Brackets are a work-in-progress and will be changing frequently during the beta. We will attempt to keep this FAQ up to date, but if you see something that doesn't match anymore, just leave a comment and we'll get on it.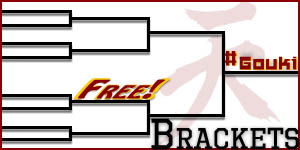 The beta is open to all members of Gouki.com and is 100% free. The basic level of service (1 bracket up to 32 entrants) will always be free. We will likely charge for keeping many brackets around and for very large brackets in the future.
Yes, we know it doesn't LOOK like a bracket right now, but it will and we're more interested in making sure it works first. So please, log in, create a bracket, and use it. Leave a comment below to let us know how you like it, or if you find something broken.
When you create a new bracket, you can give it a title (whatever you want), choose from double or single elimination type tournament, and set your bracket to private (meaning only you will be able to see it, if you leave this off you can give the URL to your friends to follow allong).
You will then be presented with the screen where you add/delete entrants (you can also get here later by clicking the + sign next to number of entrants on the "My brackets" page). Just enter all the names you want (up to 32) ideally in the order you'd seed them (best entrant first). When you've entered all the names you can click the "create my bracket" link and be taken to the new bracket. Here you'll advance the winners of your tournament to the next round as they win. You should start at the top and work your way down in round order (finish one round before playing matches in the next). That's it! Enjoy the beta!
Get started at Gouki.com/bracket now!
1