Blog: Gouki Brackets FAQ-ette
Posted by: BatRastered Dec 19, 2011 | 2 comments
Tagged: blog brackets faq
View all stories by BatRastered
---
A new way to keep track of your tournaments is now in Beta testing. Check it out.
NOTE: The Gouki.com Brackets are a work-in-progress and will be changing frequently during the beta. We will attempt to keep this FAQ up to date, but if you see something that doesn't match anymore, just leave a comment and we'll get on it.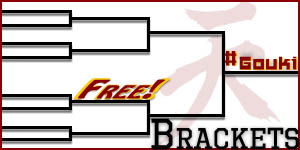 The beta is open to all members of Gouki.com and is 100% free. The basic level of service (1 bracket up to 32 entrants) will always be free. We will likely charge for keeping many brackets around and for very large brackets in the future.
Yes, we know it doesn't LOOK like a bracket right now, but it will and we're more interested in making sure it works first. So please, log in, create a bracket, and use it. Leave a comment below to let us know how you like it, or if you find something broken.
When you create a new bracket, you can give it a title (whatever you want), choose from double or single elimination type tournament, and set your bracket to private (meaning only you will be able to see it, if you leave this off you can give the URL to your friends to follow allong).
You will then be presented with the screen where you add/delete entrants (you can also get here later by clicking the + sign next to number of entrants on the "My brackets" page). Just enter all the names you want (up to 32) ideally in the order you'd seed them (best entrant first). When you've entered all the names you can click the "create my bracket" link and be taken to the new bracket. Here you'll advance the winners of your tournament to the next round as they win. You should start at the top and work your way down in round order (finish one round before playing matches in the next). That's it! Enjoy the beta!
Get started at Gouki.com/bracket now!