Deals Jimmy! Pre-order & Bonus Content FEST 2012 (Jan&Feb)
By goukijones — January 6, 2012
Tags: deals-jimmy free-shipping price-cut release-date-delivery
---
Deals that will make you laugh and cry unfortunately. Jan. 31-Feb. 7 release pre-order & bonus content listings. Which retailer has what and how to get it. Cheaper than retail prices found. Free shipping and release date delivery deals.
Final Fantasy XlOl-2 Release date: January 31, 2012
Gamestop is now tiering bonus content. Gotta love that. Regular Gamestop purchases will get you an exclusive alternate costume for Serah.

Now, here's where it gets good. If you're a PowerUp Rewards member you will also get this Genji Bow/Sword. What this does is just increase your attack rate. I can't tell you right now unless this is better than my starting weapon, I'd never use it. Worthless.

But if you want either of these here's a link. JimmyStop.
Amazon has a coupon for the regular version. $10 Credit. Amazon will also include an EXCLUSIVE boss battle. Now that's a bonus worth getting.

No credit for the Collector's Edition, but you still get the bonus boss fight.

---
NeverDead Release date: January 31, 2012
The Hard Smash ability gives you extra strength when performing non-sword attacks (kicks, headbutts, and more).

The Heavy Limbs ability doesn't allow dismembered limbs to fly so far.

Amazon has a couple of EXCLUSIVE abilities that you see above. This game looks like it could have some sweet combat. I'll be checking this one out for sure.
GameStop has a set of their own EXCLUSIVE abilites as well.


Desperate:No arms, no legs, NO PROBLEM. With the "Desperate" ability enabled, the more limbs you lose, the more powerful you become. Attack Power = Full Body < 1 lost limb <3 lost limbs.
Cowardly Words: Enable the "Cowardly Words" ability to unlock exclusive VO lines from your hero, Bryce, thus injecting even more humor and story into the game.
---
Soul Caliber V Release date: January 31, 2012

Amazon will include a $10 coupon.
Buy.com has both the PS3 & Xbox 360 standard versions for $56.99 w/ free shipping.

GameStop has one of their best Bonus Items to date.

---
Believe or not, no real deals on this game. Amazon will include a $10 coupon.
The Darkness II Limited Edition Release date: February 7, 2012
Pre-order The Darkness II and receive a free upgrade to the Limited Edition while supplies last.
Alternate darkling outfit: "Crazy Abdul"
Two character ability upgrades:
Gourmet Hearts: provides bonus for eating hearts
Relic Hunter: locates collectible items in the world
Custom illustration by Marc Silvestri
Free digital download of The Darkness Origins Volume 1 and Volume 2 comics
---
Inversion. Inversion? lol here's a preview in case you have no clue. Release date: February 7, 2012

Anyway ... Amazon don't give a fuck about this game with NO deals. Gamestop has "VERGE" multiplayer map(no image available) and Dynamic Theme Wallpaper! You don't need the wallpaper, I know. The multiplayer map is cool, but that means you'll only be in a hopper with Jimmys that bought Inversion from GameStop. And how many people are going to buy this game? Really. Buy.com trying to steal the show w/ $56.99 AND free shipping.
---
Kingdoms of Amalur: Reckoning Release date: February 7, 2012
I saw this game at E3 last year. Hands-on with a dev. I was totally shocked when I saw this. I was expecting another nubfarm EA game, but Big Huge(head) Games might have something here. I'm definitely checking this game out ASAP.
Buy.com has the lowest price $56.99 w/ free shipping.
Amazon has EXCLUSIVE pre-order content.


That's pretty rough looking rod right there. PLUS!


GameStop has GameStop Exclusive Destinies Choice Pack & the Fate Touched Weapons Pack.

---
Mass Effect 3 - Collector's Edition Release date: March 6, 2012
Premium metal case featuring male and female Commander Shepard
70-page hardbound art book
Limited edition Mass Effect comic by Dark Horse Comics
Fabric N7 patch.
Exclusive 4x6 lithographic print of the SR-2 Alliance Normandy
Additional in-game content including
N7 Arsenal Pack - Bring the firepower with the N7 Sniper Rifle, Shotgun, SMG, and Pistol.
Squad alternate appearance pack
Robotic Dog for on board the Normandy
Mass Effect 3 digital soundtrack.
Collector's Edition lowest price w/ free shipping.
Gamestop has all version for retail and EXCLUSIVE bonus content.
Amazon has a $10 credit if you pre-order the standard version. Both versions on Amazon include EXCLUSIVE bonus content.
---
Thanks for reading my deals story. I love to see all the different stuff companies are packing in with pre-orders. It's too bad about GameStop and their new Rewards Members bonuses. (If you really wanted the item.) The more games end up in a less physical form. The less we'll see of GameStop. Maybe then it won't be so ridiculous to read about their deals. Until then, shop where you like. Click and purchasing through any of these links DIRECTLY support Gouki.com. We appreciate that. Thank you. Please post any deals or suggestions in the comments below. Oh and Don't be a Jimmy!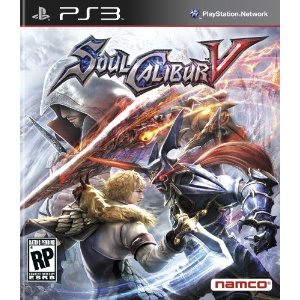 7,477 Views
8 Stories

Release Date: Jan 31, 2012
Trending Video Games