Earth Defense Force: Insect Armageddon Interview and Hands-on
By goukijones — July 2, 2011
Tags: e3-2011 earth-defense-force exclusive exclusive-video gameplay hands-on interview off-screen
---
E3 2011 Exclusive: Team Gouki checked out Earth Defense Force: Insect Armageddon. While BatRastered grills the PR Jimmy, GoukiJones raips on screen. Later FnJimmy offers his take as well. Don't be a Jimmy!
Earth Defense Force: Insect Armageddon is a cheap game Jimmy, $40 bucks out the gate. We might have a serious deal of fun here. 3 player online co-op, 4 different suits to use and upgrade, tons of bugs and aliens to shoot and destructible environments. Developed by Vicious Cycle Software out of North Carolina, EDF could be their best game yet. Of course "could be" is the key word there since I haven't actually played the final product. I am hype.
I had fun while playing the demo. You can check out my killin' bugs and dropping buildings in the video below, while BatRastered asks as many questions as he can.
E3 2011 Exclusive Interview and Gameplay
FnJimmy's Take
Earth Defense Force: Insect Armageddon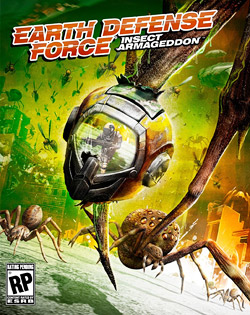 4,254 Views
2 Stories

Release Date: Jul 5, 2011
Trending Video Games