Community Blog: Krauser VS Chris (Resident Evil)
Posted by: starlordtitus Jul 15, 2011 | 5 comments
Tagged: blog fiction resident-evil-4 resident-evil-5
View all stories by starlordtitus
---
After a successful mission with Leon, and Leon's near death experience with Wesker, Chris is sent to investigate a facility that is selling and distributing bio-weapon human enhancers. But when he arrives,he finds an adversary worthy of his strength.
Reader's Note: The following story has biographies for the contenders as well as music videos to be played when prompted to for a more dramatic experience.
Biographies
Chris Redfield
Date Of Birth: 1973 Blood Type: O Gender: Male Height: 6'1 (185 centimeters) Weight: 216 lbs (98 kilograms) Race/Nationality: Caucasian American Occupation: US Airforce (Formerly), Stars Alpha Team Marksman and Backup Pilot (Formerly), Anti-Umbrella Activist (Formerly), SOA BSAA Operative (Currently)
Status: Alive Voice: Michal Filipowich (CV), Joe Whyte (REmake), Roger Craig Smith (RE5, DC, Rev,MvC3 English voice), Hiroki Touchi (Japanese voice) Portrayor: "Charlie" (Live action RE1) Will Lupardus (Viral Campaign), "Wentworth Miller (Resident Evil Afterlife) Mocap:Reuben Langdon (CV, RE5)
About Chris: Chris Redfield is a Special Operations Agent (SOA) of the Bioterrorism Security Assessment Alliance (BSAA), of which he is a founding member. Chris has perhaps seen more bio-weapons and danger than any other human being on the planet. Having chosen to seek and eradicate all bioterrorism in order to secure a future without fear. His greatest triumphs include the downfall of Umbrella as well as his greatest nemesis Albert Wesker. Chris' training includes pilot-fixed winged aircraft, several figthing techniques including (CQC) Close Quarters Combat, is an expert in knife and firearm combat, and is gifted with great accuracy.
Jack Krauser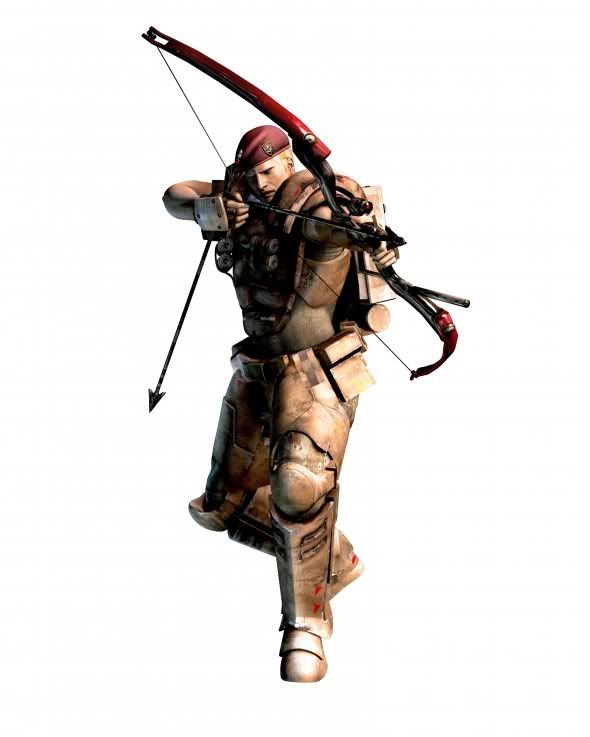 Date Of Birth: 2004 Gender: Male Race/Nationality: Caucasian American Occupation: US SOCOM Member (2002), Albert Wesker follower (2002-2004), Osmund Saddler Henchmen (2004) Status: Deceased Voice: Jim Ward Mocap: Ryuoji Okamoto (cutscenes), Munenori Yuo (in-game)
About Krauser: Krauser was a former government agent along Leon S. Kennedy, but it was assumed he died in a helicopter crash and was later found to be in alliance with Wesker. He is a seasoned operative of the US SOCOM (Special Operations Command). Krauser is an excellent knife fighter, and along with the same training as Leon, knows how to use a wide variety of firearms and heavy ordinance. Compared to Leon, he has a more rugged figthing style: utilizing surprise attacks from behind and cover; long -range longbow shots; traps, such as robotic spiders with TNT strapped to them and small flying robots equipped with full-auto armaments; more physically-oriented, close-range combat; and especially the luring of his enemies into the environment to pull off any one of the aformentioned tactics.
Story: *Conversation between founding member Chris Redfield of BSAA and Reports Administrator, Carl Slogan*
Carl: "Come in, Chris, come in."
Chris: "What do we got"
Carl: "Satelite survellence and insider reports indicate there is a facility in Egypt that is distributing and selling bio-weapon enhancers to generate super soldiers"
Chris: "Are you telling me people are actually injecting themselves with bio-weapons??"
Carl: "Not only that, but some side effects have included complete take over of the host while others retain a sense of control. Whoever's doing this must be planning to control these unfortunate souls."
Chris: "I'll leave right away. Any additional briefing?"
Carl: "There's a weapons depot that we have prepared for you in Egypt. Our insider, Nicholai, will be waiting for you there. He has a set of weapons suited to your mission. Your goal is to seek who's behind this, arrest them, and destroy the facility.
Chris: "Copy that, see you when I get back"
Carl: "Oh and Chris?"
Chris: "Yeah?"
Carl: "Do be careful"
Chris nods his head and makes his way towards Egypt via jet. Upon arrival he heads towards the weapons depot.
Nicholai: "So I am graced with the presence of Chris Redfield! Welcome, I am Nicholai."
Chris: "Good to meet you, what do you have for me"
Nicholai: "As I have been briefed on your mission, I have a very special customary set for you. As this mission is about stealth, I have supplied you with a disguise to blend in with the locals.This sanded color hooded cloack will suffice to your needs. In addition, my reports indicate that your enemies that are creating these enhancers, are also infested with the enhanced version of Las Plagas. Therefore, in order to maintain silence and yet effectiveness, I've decided that your primary weapon for operations is one your friend Leon S. Kennedy is familiar with, the Plaga Removal Laser 412 (P.R.L. 412). It is a directed-energy weapon with concentrated UV light wave unlimited ammunition. Powered by a internal perpetual battery."
Chris: "Sounds flashy"
Nicholai: "Ah ha ha! Indeed it is! This weapon also removes the need for Flash Grenades as it can emit burts of light, with a bit shorter range. And lastly, a one-shot Rocket Launcher, just in case"
Chris: "Wow"
Nicholai: "Alright! Get a move on! The world isn't goint to save itself!"
Chris follows his coordinates on his GPS and arrives at the facility. He surveys the area with the scope of the Rocket Launcher. There are apparently 30 guards surrounding the area, with few 'suits' looking to buy merchandise. Chris puts on his disguise and makes his way to one of the apparent custormers making their way to the facility.
Chris: "Excuse me, are you off to purchase 'special product' too?"
Italian Buyer: "Mmm? Who are you? You're here to buy as well? You should get in line. And they won't just see anyone, you need an appointment."
Chris: "Any chance you can get me in? I came across a more powerful enhancer through a rich friend of mine but they only sell it to customers who know the password. I could give you the password if you get me in."
Italian Buyer: " A negotiator eh? Very well, follow me and stay close. But if I find out you are playing me, I'll have you shot."
Chris: "Deal"
The two men make their way to the door. The buyer indicates to the guard that the hooded man is with him, a personal body guard, and the two are allowed in. They are then escorted to a meeting room, along the way, many workers are seen hard at work, their eyes displaying infestation of Las Plagas. They then enter the meeting room. In the room are many other buyers from different countries. At the head of the table, the chair turns to reveal Jack Krauser.
Krauser: "I understand you gentleman wish to buy our product, you've come to the right place. The price stands at $50,000 for a set of 12 shot injectors filled with our serum. The price is non-negotiable. I'm sure that won't be a problem for you wealthy gentlemen."
The long table of men nod to confirm there is no problem.
Krauser: "Good, follow me. I'll show you to the merchandise"
On the way to the product, Chris inspects the area, noticing controls for the facilityl. Careful not to arouse suspicion, he begins shutting down systems to the main assembly line, but leaves the power on for the lights so as to not provoke his enemies. Meanwhile, the Italian Buyer decides to address Krauser to discuss the more powerful serum, and then turns around to talk to Chris. Chris conveniently shows up behind him right as he turns around.
Italian Buyer: "Alright, what is the password?"
Chris: "Password is: Leon sends his regards"
Italian Buyer: "Are you sure? What a strange password"
Chris: "We are afterall purchasing strange product."
Italian Buyer: "This is true."
The buyer turns his attention towards Krauser.
Italian Buyer: "Excuse me Mr. Krauser. Word has reached my ear that a more powerful serum is sold only to customers who know the password. I am sure disclosure is exercised for the more privilaged customers so I will whisper the password in your ear"
Krauser begins to have a confused look on his face.
[Activate Music Video 1]
Italian Buyer: "Leon sends his regards"
Krauser: "WHAT"
Krauser pushes the buyer to the ground and frantically looks around! He see's the hooded man behind the group of men and begins making his way towards him. Chris pulls out his P.R.L. 412 and flashes the crowd to buy some time! The other workers of the facility notice the commotion and begin making their way towards the area. Chris dashes for Krauser and comes in with a right hook, a kidney punch, a punch to his core, and then ends it with an uppercut to his jaw. Krauser grunts in pain and falls to the floor. The buyers regain their eyesight and the facility workers have arrived. They dispaly loyalty towards Krauser and their eyes show a menacing red indicating Las Plagas is preparing to attack. They out number Chris 40-1. Chris runs for higher ground dodging and attacking his way through some workers along the way. He then turns around to see all the individuals down below. He then holds the trigger on his laser. Krauser sees what's happening and runs to hide behind a large crate. Chis then FIRES! The concentrated beam from the laser disperses and eradicates all the workers simultaneously. The entire workforce is eradicated with a single shot from the P.R.L. 412. Krauser disappears among the crates. Chris makes his way downstairs. The buyers are all terrified and confused.
Chris: "By order of the Bioterrorism Security Assessment Alliance, I am hereby shutting down this facility and placing you all under arrest."
Krauser surfaces quickly from hiding and hits Chris in the face, then he knocks the laser out of Chris' hands, and then roundhouse kicks Chris to the ground. Chris quick stands from the ground. The two men pull out their combat knives and prepare to throw down. Krauser takes the initiative and swings diagonally down, Chris counters by raising his knive to block and then counters with a blow to Krauser's chest. Krauser backs up a bit, and then lunges forward, Chris sidesteps and then attacks but Krauser counters with a side kick to Chris' chest. The two swing their knives, matching blow for blow, sparks flying from the knives. Chris counters by catching Krauser's wrist, but Krauser knees Chris to his core, and then sweeps Chris. Krauser then jumps and then comes down on Chris with his knive. Chris catches his arm and the two men struggle. Krauser pushes down on the knife to kill Chris. But Chris stares Krauser in the eye, and with immense strength pushes the knife upwards, bench pressing both Krauser and the knife. Chris then directs the knife to the ground, jamming it's metal into the floor. Then he left hooks Krauser off of him. Chris puts his knife away.
Chris: "Alright Krauser, let's settle this like real men."
Krauser: "With pleasure."
Chris attacks with a straight right, Krauser blocks with his left arm and attacks with a right straight hitting Chris in the face. Krauser then attempts another roundhouse but Chris rolls his body around the kick and catches his leg, he then kicks Krauser's other leg causing him to stumble. Chris then runs up, jumping on one of Krauser's knees and knees Krauser to the face. Krauser stumbles in pain, Chris then comes at him again, but Krauser dashes and tackles Chris down. Krauser begins barraging Chris with an onslaught of punches, Chris blocks blow for flow and then finds an opening and punches Krauser's eye. Krauser backs up in pain as his eye flashes with a white light. Chris sprints forward, jumping and coming down with an elbow to Krauser's face. Krauser fights with his one eye and blocks an incoming attack from Chris and counters by putting him in a head lock. Krauser begins squeezing away to put Chris to sleep. Chris tries to elbow Krauser but to no avail. Chris begins to become dizzy, but then drops his body to sink and then jumps up backwards, forcing Krauser to lose balance and Chris then lands on Krauser, elbowing Krauser in the process to his core. Krauser coughs and then begins to get back up to attack. But in that moment Chris swings forward with a hard right piston punch and knocks out Krauser cold.
Chris runs to the controls of the facility and shuts down all power. He removes the power sources and severly damages them. He then makes his way to the exit and grabs his P.R.L, but Krauser yells at Chris.
Krauser: "Hey! We're not done yet, you forgot the last power source, ME!"
[Activate Music Video 2]
Krauser injects himself with 4 serum injectors. And dramatically begins transformation. Chris watches in horror as Krauser transorms into a hulking mutated abomination of power. Chris charges his laser quickly but a tentacle from Krauser whips the laser away. Another tentacle lunges at Chris but he manages to dodge it. He picks up the laser, but Krauser advances on Chris and swings with a massive arm but Chris dodges to the side. There just isn't enough time to charge the laser. Krauser's speed and strength have increased dramatically. Chris sprints to the exit and runs out. Krauser chases after him. Krauser knocks over many barrels as he makes his exit. Chris turns around and is forced to dodge more onslaughts from Krauser. Chris flashes his laser and temporarily blinds Krauser. He makes enough distance from Krauser and notices the spilled barrels of gasoline by Krauser. He pulls out his Rocket Launcher. Krauser regains his eyse sight and unleashes all his arms and tentacles and limbs towards to Chris. Chris takes absolute aim, and says "For a future without fear..." and fires. The rocket dashes towards Krauser, all of his limbs miss the rocket as they already had a pre-destined target. The rocket reaches Krauser's face and a massive explosion occurs. BOOOOM. The facility crumbles to the ground, rubble and debree rain from the sky. Chris lowers his weapon and then turns around and takes off for the weapons depot. The enemy and facility have been apparently wiped out.
Nicholai: "Chris! So good to see you back in one piece!"
Chris: "I gotta say Nicholai, you sure do know how to pick your weapons"
Nicholai: "Ahhh I take it the weapons I gave you came in handy?"
Chris: "You have no idea. I'm going to head back to head quarters now and report back"
Nicolai: "Of course, happy to be of service!"
Chris gets on his jet and makes his way back to the US. Having averted another outbreak of bio-weapons, Chris finds the satisfaction of knowing he is securing a safer future for the rest of the world.
The End
---
[UPDATED] Jul 15, 2011 12:09:25 PM
Jul 15, 2011 by BatRastered
Added blog, fiction tags