Deals: Red Dead Redemption 2 's Real Life Durable, Unrippable Treasure Map
Posted by: goukijones Jun 6, 2018 | 1 comments
Tagged: collectors-edition deals
View all stories by goukijones
---
One of my favorite Rockstar collector edition's was the GTAIV Lock Box. I may have a new favorite inbound.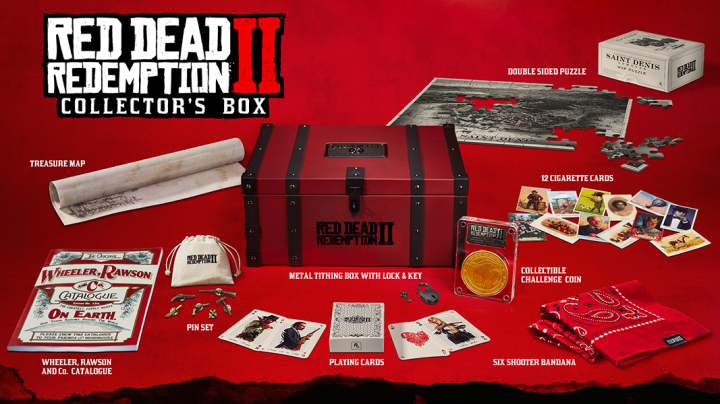 My most coveted item has to be the map. I like the idea of sticking it in a frame and hanging it on the wall. They don't even show it to us in this picture because it is the game map and is supposed to have to special treasures marked on it. Awesome idea. Number 2 item is the Catalogue, I believe that it is going to be full of Rockstar jokes and wit. All of this stuff, of course, is beside the sick box it comes in.
Treasure Map: Printed on durable, unrippable paper, this exclusive treasure map reveals the location of some buried treasure that may start Arthur on a search for more riches hidden throughout the world of Red Dead Redemption 2.
Wheeler, Rawson and Co. Catalogue: The one-stop shop for everything from weapons to clothing, the Wheeler, Rawson and Co. Catalogue is an essential shopping tool for turn of the century life. This complete 150-page book is a replica of the edition found in stores throughout Red Dead Redemption 2.
The Collector's Box does not come with the game, but you can order that from Amazon or GameStop has all sorts of packages.
Thanks for reading!

5,085 Views
10 Stories

Release Date: Oct 26, 2018