Community Shadows of the Damned Pre-Order isn't as crazy as you may think
By iorilamia — May 11, 2011
Tags: blog download grasshopper-manufacture music pre-order shadows-of-the-damned
---
Crazy games usually have crazy pre-order deals right? Not this time. But two great composers coming together sounds promising.
Shadows of the Damned, the upcoming psycho-train game from Suda51 and Mikami. Pre-order deals have been announced but it feels a bit lacking. Pre-ordering from Amazon, EA or Gamestop gets you a CD with 12 tracks from the game. Cool right? Well you don't get a physical CD...it's digital download. That part kind of set me off, actually receiving a CD feels so much better, but I guess going digital saves them a lot of money. If you enjoyed the music of silent hill, Akira Yamaoka also helped put this Original Soundtrack together, working a long side with the band "The Damned"
---
Here's the track listings:
1. Theme of Shadows of the Damned (featuring the English gothic punk band, The Damned)
2. Shedding Stars
3. Walk if Off
4. Last Stop, Windows Up
5. This Way Comes
6. Fathomer
7. Smile for a Broken Dawn
8. Showdown at High Moon
9. Cold Turkey
10. Broken Bones, Broken Promises
11. Dropped Off Between Stops
12. Clawing at the Veil
A little History. The Damned are a British punk rock band from the 70's. Apparently the first punk rock band in the UK to hit top music charts and then tour in America. That's cool and all but the best part is how badass nice the lead singer, Dave Vanian, looks.
How does receiving a digital CD feel towards a real one? Limitation's are sort of a bummer. Is this enough to make you pre-order a game that only has a few trailers? Or knowing the masterminds behind it make that ok? Tell us what you think in comments below, don't be a jimmy.
Official site: http://www.ea.com/shadows-of-the-damned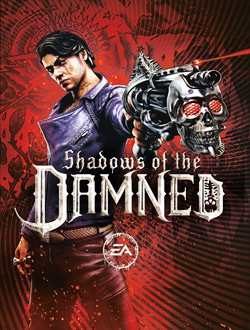 5,823 Views
6 Stories

Release Date: Jun 21, 2011
Trending Video Games