Nintendo 3DS
Tags: hardware nintendo nintendo-3ds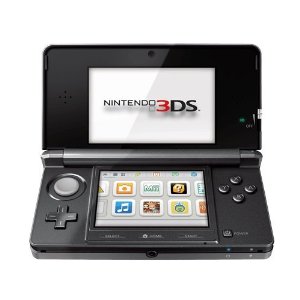 17,540 Views
23 Stories

Release Date: Mar 27, 2011
The Nintendo 3DS is a portable game console by Nintendo, which can produce "3D effects without the need for any special glasses" via a process called autostereoscopy. It will be released in Japan on February 26, 2011 for ¥25,000, and will succeed the Nintendo DS series of handhelds,which primarily shares the handheld console market with Sony's PSP. The Nintendo 3DS will feature backward compatibility with Nintendo DS series software, including Nintendo DSi software.
The 3DS will be released in North America on March 27, 2011 for $249.
---
Nintendo 3DS - Product Features
---
Trade-In Offers
Amazon:
Prepare for the next generation of handheld gaming. Trade in your used Nintendo DS and get an Amazon.com Gift Card that can be used to pre-order the Nintendo 3DS. (This can be done from home and Amazon will pay for the shipping.)
GameStop:
3DS Trade Up Offer

Trade your DSi XL and get $100 in-store credit toward the reservation of a 3DS, trade in your DSi and get $75 or trade in your DS lite and get $50. (This requires you to leave your house.)

DSiWare downloadable content and point balances are not currently transferable to Nintendo 3DS. Full trade value amount must be applied toward the pre-order of a new Nintendo 3DS. Net savings is after trade. Offer not good on cash trades. Trades must be in full working condition to receive full value. Hardware must have all necessary components for trade. Cannot be combined with any other offer. Trade-ins subject to manager approval. See store associate for details. No dealers. Offer valid in the United States, Puerto Rico and Guam only. Offer valid 01/24/11 - 04/03/11.
---
Recent Stories
Gallery
Links
Trending Video Games