Stories
Sort by: Most recent | Popular today | Popular this week | Most views all time | Most Liked Page 1 (1 - 3 of 3)
About: Sleeping Dogs (x)
Community Review

By: Cinderkin Aug 14, 2012 | 1 Comments
Started out as Black Lotus starring a female protagonist, then becoming the next gen True Crime, and later named True Crime: Hong Kong has found its home in Sleeping Dogs. Is this identity complex game worth your money? Find out in this Gouki.com Review.
Sleeping Dogs has had its ups and downs in its fairly long development cycle. Originally starting off as a new IP called Black Lotus; then being turned into the latest in the True Crime franchise and then ultimately scrapped and cancelled by its former publisher Activision back in 2010. There wasn't much to be excited about once Square Enix decided to pick up United Front's latest game and change the name to Sleeping Dogs. Was this a smart move for Square Enix or should Sleeping Dogs do as its name implies and be put down.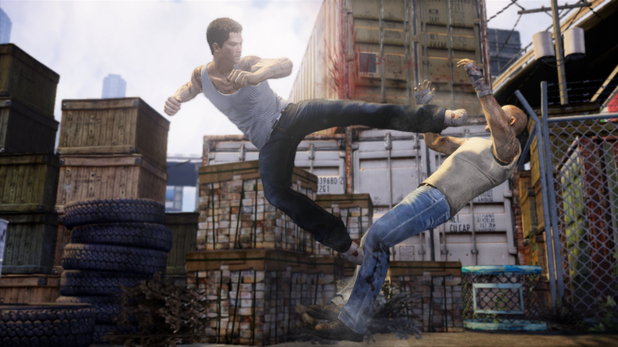 Story:
The story in Sleeping Dogs follows a man named Wei Shen who was born in Hong Kong, but grew up in the United States after his mother decided to give him and his late sister Mimi a better life in America. Wei now back in Hong Kong as an undercover cop is sent in to infiltrate a well known triad group known as the Sun On Yee (a reference to a real group known as the Sun Yee On). Wei's main goal is to follow triad members and ultimately cripple the organization from the inside out. Wei grew up with most of the lower class triad members, and has a personal stake in the undercover operation, which leads his handler Raymond questioning his motives. Throughout the story Wei has to remember who he is and what his true goal is, as he fights with himself mentally to break from becoming too involved with the triads.
Gameplay:
The gameplay in Sleeping Dogs is not what you would normally expect from open world sandbox games. Where most in the genre focus on gunplay more than hand to hand combat, Sleeping Dogs takes what Batman Arkham Asylum brought us and expands on it. Combat is fun and fluid with the controls being easy to pick up and understand. The game has a huge emphasis on hand to hand combat and environmental attacks, such as throwing enemies into walls or dumpsters. The game also features some of the most brutal environmental attacks like throwing enemies on fish hooks, crushing them under car engines, or slicing their faces off in a bench saw. There is also gunplay in the game, but not to what most would expect from the genre. Rarely do you have a gun or weapon in your inventory, as most times you will obtain weapons by disarming enemies and using it against them. Once a knife breaks or you run out of bullets Wei will just toss it keeping the gameplay fresh and interesting. The game uses what is called an aggressive cover system, where Wei will get destroyed by gunfire if he sits behind cover too long. What the game wants you to do is vault over cover and either disarm an enemy or take him out with a slow motion gunshot while vaulting.
Sleeping Dogs offers a ton of side missions, collectibles, and other activities to keep you entertained. Ranging from doing favors for the locals, singing bad karaoke, betting on cock fighting, or racing events. The player can even shop and purchase new clothing or vehicles. There is always something to do in Hong Kong. Driving in open world games are usually hit or miss, but Sleeping Dogs does a wonderful job making the driving accessible. Cars turn how they should, motorcycles are fast and handle great, and the boats are what you would expect. Unfortunately there are no aircrafts Sleeping Dogs, but it does offer cab rides for those that want to get around the large recreation of Hong Kong easily.
Visuals:
Sleeping Dogs looks great for an open world sandbox type of game. I can't say it's the best looking game of this current generation, but the character models look great, as well as the environments. Cut scenes are well done with very believable moments. Animations seem stiff sometimes, but nothing that can take away from what the rest of the game offers. The weather effects are done nicely as well, with water effects showing on the roads, the people of Hong Kong as well as cars. The city is very lively and filled with people roaming around living their day to day lives. It's nice seeing NPC's carrying on conversations with each other, or talking on the phone, or even buying food from a street vendor. It's easy to get immersed into the world and it feels real.
Audio:
The audio presentation in this game is well thought out, and is done much better than a lot of games this generation. The voice acting is superb with a great amount of voice talent ranging from Will Yun Lee, Emma Stone, Lucy Liu, Tom Wilkinson and Parry Shen to name a few. Voice acting is done with a mix of English and Cantonese language, which offers a realistic touch to each character as well as being able to understand them. The music is also nicely done, ranging from Chinese hip hop, America rock, and classic music. They really give you a variety of tracks to listen to, with about 10 radio stations. The ambient sounds are well done, as well as the NPC's who fill the city. There is some really good humor to be had by listening to NPC's in Sleeping Dogs.
Overall Sleeping Dogs is by far one of the most fun sandbox action games of this generation. Whether it's fighting thugs in hand to hand combat, or shooting up rooms John Woo style; there is a ton of fun to be had here. With a compelling story, only plagued by its length and a world filled with activities that will keep you coming back for more. This game has hours of gameplay and nonstop fun. If you are a fan of this genre and can't wait for GTA: V then Sleeping Dogs will fill your empty void for the year. It's a blast!
Video

By: goukijones Jul 27, 2012 | 3 Comments
Did somebody add Sleeping Dogs to the catalog? Make sure you click the HYPE METER on Gouki. New trailer promises amazing gun play.
Read full story...
Blog
By: goukijones Jul 24, 2012 | 5 Comments
As I watched this video for the first time, I took some notes. I time stamped them. It's Sleeping Dogs, it's Square Enix. It's the end. :(
0:42 You might need to read to play this game. Unless you speak Chinese.
0:52 Cellphone time! The most annoying part of GTA IV.
1:03 Send Johnny Rat Face thru.
1:18 Way to show off your new game by getting into the car on the passenger's side. :| So far this looks exactly like GTA IV, but worse.
2:23 WTF, cellphone minigames? I hate cellphones. I don't want to play a game, playing a game on a hand held. Fuck!
2:40 Everybody is driving on the wrong side of the street.
2:58 Cut scene
3:10 Jumps you into a combat scene.
3:35 The studio worked with some MMA Jimmy you've never heard of to make the combat as authentic as possible. Using the environment around you looks really, but overall the combat is a Batman (Arkham series) clone.
4:15 So the knife just breaks?
4:27 The shooting looks cool.
4:56 Jimmys is getting blasted!
5:35 The shooting looks like the best part so far. Now getting on a motorcycle. :(
5:38 He puts on a helmet. lol.
5:54 This is what we saw at E3. Shooting out the tire causes the car to flip into the air. Perfectly normal right?
6:04 Another car goes flying!
6:13 Now for a motorcycle. lol.
6:20 Double!
6:57 Car swapping in real time is pretty sweet.
Not that excited for this one? Has Square Enix taken on more games than they can handle? I don't know anymore. So many of my favorite video game companies have been struglling with making new games.
0 hype for this game. Vote, Comment and Share. Don't be a Jimmy!
1