Blog: Anime Revolution Presents: Mario Kart 8 Ride or Die #3
Posted by: goukijones Feb 28, 2015 | 0 comments
Tagged: anime-revolution blog las-vegas
View all stories by goukijones
---
LIVE from Anime Revolution in Town Square Las Vegas, NV April 4, 2015 Mario Kart 8. WiiU. Live stream on Gouki.tv brought to you by 5thDimensionLV.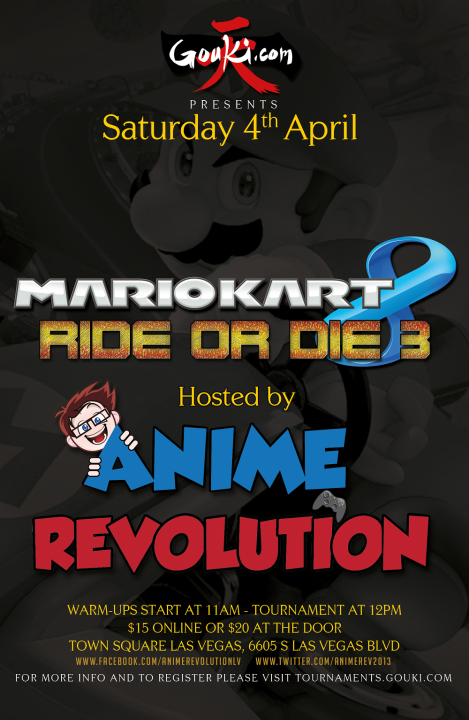 $5 Entry
$10 Buy-in
$20 at the door. Register online at http://tournaments.gouki.com/ & save $5!
Please bring your own controller w/ extra batteries. *BYOC
1st Place 70%
Grand Prize: $100 Gift Card to Anime Revolution. U.S. Version Captain Falcon.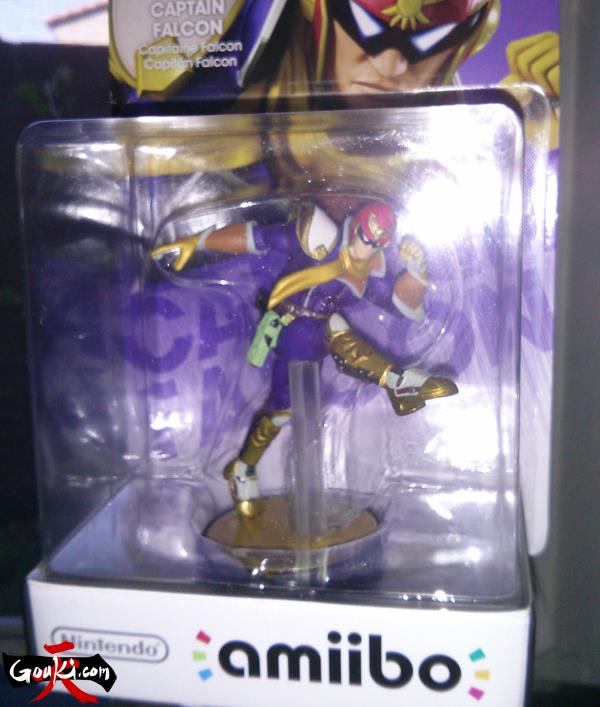 *sorry he got a little damaged while shipping.
2nd Place 20%
3rd Place 10%
Warm ups begin 11AM. You can register online at http://tournaments.gouki.com/ until April 4, 2015 11AM.
---
Heats begin at Noon.
1 Raffle ticket per racer.
Prize #1: Anime Revolution Swag Bag.
Including...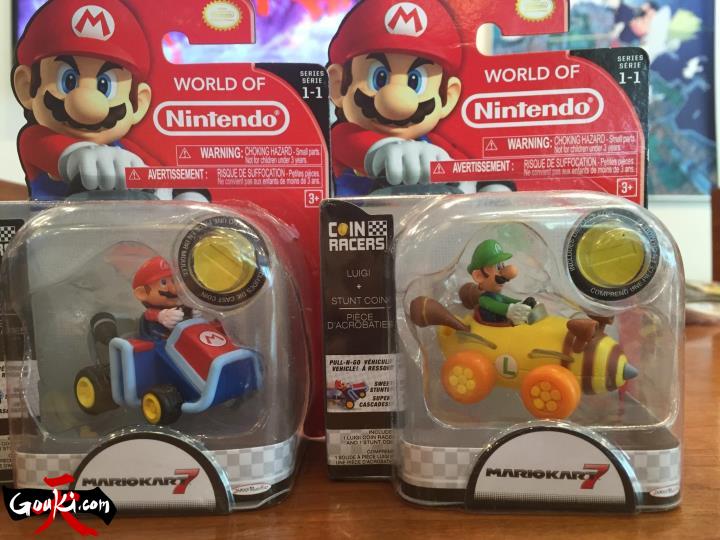 Prize #2: U.S. Version Meta Knight.
Race Rules
4 racers per station. 150cc. VS Race. Frantic Mode. Custom Karts.
*Not all characters, karts & accessories available on all systems.
Top 2 racers from each group will advance. The final four will compete for the cash prizes.
This event is capped at 32 racers. Register now!. This tournament will be live streamed & the grand finals will be featured on Gouki.com.
Bookmark Gouki.tv or follow GoukiJones on Twitch.
Stream brought to you by @5thdimensionlv
https://twitter.com/5thDimensionLV
For live tweets follow @GoukiNews on Twitter. Like Gouki on Facebook & join the event.
https://www.facebook.com/goukinews
Visit http://www.animerevolutionlv.com/ for all things Anime in Las Vegas, NV.

14,773 Views
27 Stories


Editor's Choice
Release Date: May 30, 2014
---
[UPDATED] Apr 3, 2015 9:25:47 PM
Apr 3, 2015 by goukijones
Official Rules for Mario Kart 8 RoD #3
This is a Bring Your Own Controller event. BYOC. Please bring extra batteries. Thank you.
Using the Gamepad. Gamepad use will be allowed, but it will be player's choice. If more than 1 player wants to use the gamepad, Paper, Rock, Scissors, best 2 outta 3 will decide.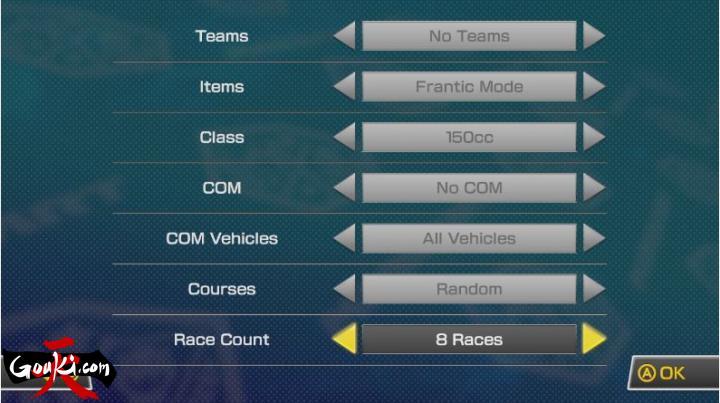 No Teams
Frantic Mode
150cc
Only Human Racers
All Vehicles are legal. *Not all characters, karts & accessories available on all systems.
Random Course Selection.
8 Races.
This is a Single Elmination tournament.
4 Racers per station.
The top 2 racers from each heat will adanvce to the next round.
Final four.
Mirror Mode On.
In the event of a tie for first place. A playoff race for all players will be in effect. It's still anybody's game! 1 Mystery track will decide the champion between all players.