Brink gets an official release date
By BatRastered — January 27, 2011
Tags: bethesda-softworks brink news release-date splash-damage
---
Brink will arrive in North America May 17, Hunted arrives June 1
Bethesda announced their full 2011 lineup today. Many dates were already known (like 11/11/11 for the Elder Scrolls V: Skyrim), but we finally got a more specific date for brink. Mark your calendars for the 17th of May, Jimmy!
source: http://bethblog.com/index.php/2011/01/27/release-dates-announced-for-brink-hunted/
---
Full press release:
Bethesda Softworks Announces Blockbuster 2011 Video Game Lineup

Brink and Hunted Release Dates Announced
ROCKVILLE, Md., Jan. 27, 2011 /PRNewswire/ -- Bethesda Softworks®, a ZeniMax® Media company, today announced the release dates of four multiplatform AAA titles shipping in 2011. Brink™, Hunted: The Demon's Forge™, RAGE™, and The Elder Scrolls® V: Skyrim™ are all slated for release on the Xbox 360® video game and entertainment system from Microsoft, PlayStation®3 computer entertainment system, and Games for Windows.
Brink, an immersive first-person shooter under development at Splash Damage, will be available in North America on May 17th and in Europe on May 20th. Brink was named as the 'Game of Show' at Eurogamer Expo 2010, while G4TV.com declared "Brink takes shooters to a whole new level." Blending single-player, co-op, and multiplayer action into one seamless experience, Brink features dynamic battlefields, extensive customization options, and an innovative control system.

Hunted, a fantasy action game, will be available in retail stores across North America on June 1st and on store shelves in Europe on June 3rd. Hunted is a fresh take on the classic dungeon crawl experience that delivers the intensity and action of a modern-day shooter. Hunted, under development at inXile Entertainment, has been called "A Dungeon Crawl for the Gears Age" by Kotaku.com and has been described by Eurogamer as "violent, deceptively thoughtful and witty."

RAGE, the highly anticipated first-person shooter from legendary developer id Software, will hit retail shelves across North America on September 13th and throughout Europe on September 16th. The game has already won numerous awards at E3 2010, including 'Best Overall Game of Show' from IGN and three 'Best of E3' Game Critics Awards including 'Best Console Game'. RAGE features intense first-person shooter action, breakneck vehicle combat, an expansive world to explore and jaw-dropping graphics powered by id's revolutionary id Tech 5 technology.
The Elder Scrolls V: Skyrim is the most recently announced title from world-renowned developer Bethesda Game Studios. The studio is widely known for developing the 2008 Game of the Year, Fallout® 3 and the 2006 Game of the Year, The Elder Scrolls IV: Oblivion®. Skyrim, the latest chapter in The Elder Scrolls saga, re-imagines and revolutionizes the open-world fantasy epic and will launch worldwide on November 11th (11.11.11).
"We are thrilled to offer our fans such a strong roster of games," said Vlatko Andonov, president of Bethesda Softworks. "We are particularly excited to present such a diverse lineup of high quality titles. 2011 will be a great year for gamers."

Hunted, Brink, RAGE, and The Elder Scrolls V: Skyrim have not yet been rated by the ESRB.
For more information visit Hunted at www.HuntedTheGame.com, Brink at www.BrinkTheGame.com, RAGE at www.RAGE.com, and The Elder Scrolls V: Skyrim at www.TheElderScrolls.com.
About Bethesda Softworks
Bethesda Softworks, part of the ZeniMax Media Inc. family of companies, is a premier developer and worldwide publisher of interactive entertainment software. Titles from five of the world's top development studios – Bethesda Game Studios, id Software, Arkane Studios, Tango Gameworks, and MachineGames – are featured under the Bethesda Softworks label and include such blockbuster franchises as DOOM®, QUAKE®, The Elder Scrolls®, Fallout®,Wolfenstein™ and RAGE™. For more information on Bethesda Softworks' products, visit www.bethsoft.com.
About Bethesda Game Studios
Bethesda Game Studios is the award-winning development studio known around the world for their groundbreaking work on The Elder Scrolls series and Fallout 3. Creators of the 2006 Game of the Year, The Elder Scrolls IV: Oblivion, and 2008 Game of the Year, Fallout 3, Bethesda Game Studios has earned its reputation as one of the most respected and accomplished game development studios in the world. They are currently developing The Elder Scrolls V: Skyrim, set to release on 11.11.11. For more information visit bgs.bethsoft.com.
About id Software
id Software, part of the ZeniMax Media Inc. family of companies, has provided technical, design and artistic leadership as a world-renowned game developer and technology innovator since its founding in 1991. id Software's iconic brands such as Wolfenstein, DOOM, QUAKE and Enemy Territory have become staples of popular culture for generations of gamers. More information on id Software can be found at www.idsoftware.com. id, Wolfenstein, DOOM, QUAKE, RAGE, Enemy Territory, and QuakeCon and related logos are registered trademarks or trademarks of id Software in the U.S. and/or other countries. All Rights Reserved.
About inXile Entertainment
Located in Newport Beach, California, inXile Entertainment is a game development company that focuses on both licensed and original intellectual properties. Formed in late 2002 by Interplay Entertainment founder Brian Fargo, inXile Entertainment develops for personal computers and the major console platforms including the Nintendo Wii™, Nintendo DS™, PlayStation®3 computer entertainment system and the Xbox 360® video game and entertainment system from Microsoft.
About Splash Damage
Based in London, England, Splash Damage Ltd is an independently-owned game developer which created the critically acclaimed Wolfenstein: Enemy Territory™ for id Software and most recently developed Enemy Territory: QUAKE Wars™, winning over 80 awards and nominations. Founded by Paul 'Locki' Wedgwood in 2001 with key members of the mod-making community, Splash Damage also contributed multiplayer maps to DOOM 3™ and Return to Castle Wolfenstein™: Game of the Year Edition. For more information, visit www.splashdamage.com.
Splash Damage and the Splash Damage logo are trademarks of Splash Damage Ltd. in the U.K and other countries. All other trademarks belong to their respective owners.
Bethesda Softworks, Bethesda Game Studios, ZeniMax, Brink, Hunted: The Demon's Forge, The Elder Scrolls, Oblivion and related logos are trademarks or registered trademarks of ZeniMax Media Inc. in the U.S. and/or other countries. Fallout is a trademark or registered trademark of Bethesda Softworks LLC. in the U.S. and/or other countries. All Rights Reserved.
SOURCE Bethesda Softworks; ZeniMax Media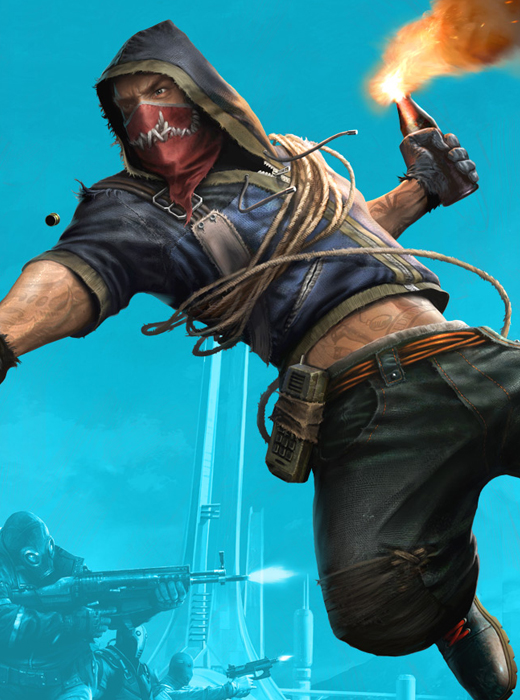 33,033 Views
16 Stories

Release Date: May 10, 2011
Trending Video Games