Review: Eagle Eyes Glasses 4in1 SuperSight System Demo and Review
Posted by: goukijones Apr 2, 2019 | 1 comments
Tagged: accessories gaming-glasses review
View all stories by goukijones
---
Ever wanted to try out a pair of Gaming Glasses, but you weren't sure on the look, the feel or the comfort? Check out these Eagle Eyes Gaming Glasses.
My first test of these glasses was playing Halo Wars. I noticed instant relief on my eyeballs. I played a straight 5 hour session with one match lasting over 2 hours. We finally won the match and I decided to take a break. I had completely forgotten that I even had the glasses on while playing. When I took them off I noticed a significant difference in all of the lighting around me. Everything seemed brighter. I don't wear glasses outside of sunglasses while driving so I was surprised that the Eagle Eye frames were practically unnoticeable. The model I tried out was very light weight and did not put pressure on my head. They were very comfortable to wear for a long period of time. They didn't squeeze my head or slide down my nose. I finished that session with no eye strain and no headaches. All units!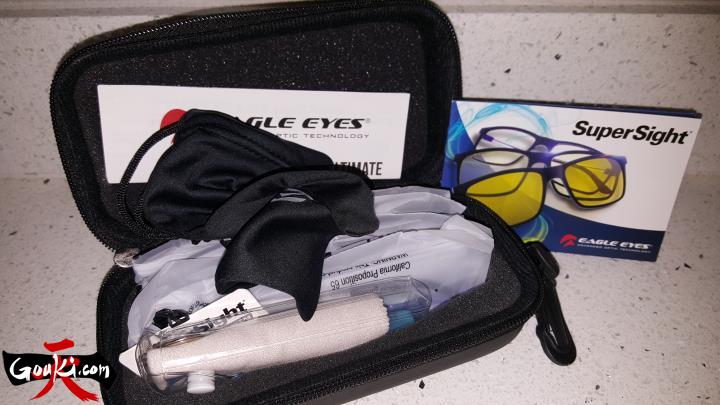 ---
The next time I tested the Eagle Eye glasses I was in a very bright office. Like giant-sunlight-in-the-middle-of-day-bright-windows. The sensation of my eyes widening and opening up is a wonderful feeling and something I didn't take serious when I first heard of these lenses and glasses. Now I'm convinced and I can't explain the feeling, it's like full frontal relaxation of your eyeballs and forehead.
The frames come with the standard blue light lenses. The other 3 lenses attach over the frames. If you want to use them in low light you hook the low light lenses over the blue light lenses and you ready to go. Instant eye relief. When I was testing out different variations I did notice some glare between the lenses at the point where they stack against each other. Not enough to stop me from using them but if I was looking for a flaw that would be my only complaint.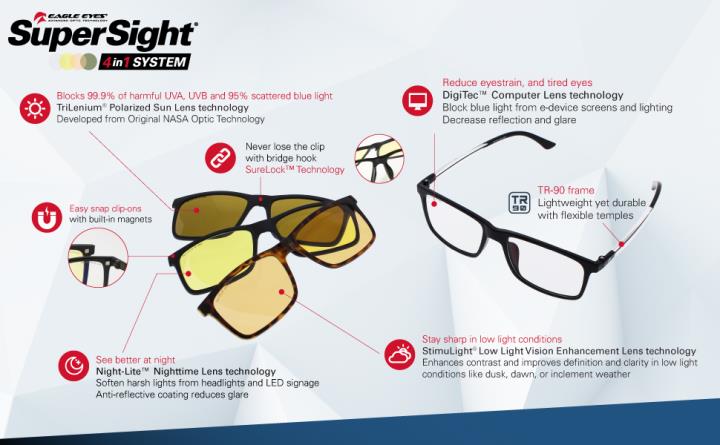 Eagle Eye Glasses come in all kinds of different shapes and sizes. I think the Eagle Eyes 4in1 SuperSight System Kit is a really good value that allows you to try out different lens types. You'll also look classy in the more mature style frames. You should give them a try, they really do work.
Purchase here.
Verdict: Buy It