Community Blog: Project Zomboid seems like a promising Zombie Game
Posted by: iorilamia Mar 28, 2011 | 5 comments
Tagged: blog indie-stone-studios project-zomboid zombie
View all stories by iorilamia
---
Indie Stone Studios has an intriguing game in the works that me be the most in-depth zombie game you have heard of.
The game is still in works, you can pre-order it / donate for $8 or more and receive free updates forever, awesome. Anyways, heres some stuff planned/ being worked on features.
You will be able to play on browser or stand-alone game itself . A full body dmg system will be implemented, example would be jumping out of a window will break your leg....you won't get far. Different zombies are affected different ways, sight, smell, sound which also ties into the games real-time feature, which changes how you will deal with certain zombies at different times of the day. Character are effected by almost anything. Hunger, insanity, a scratch that may slowly transform you.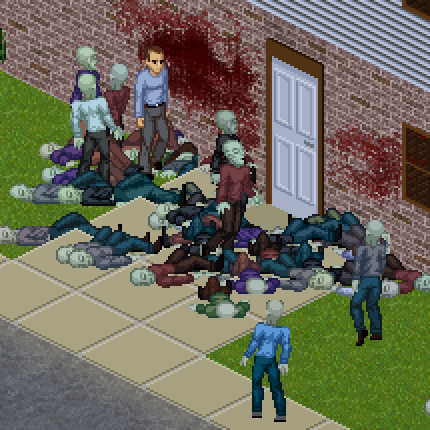 What really caught my eye was how zombie bodies don't just dissapear. Mounds of bodies may mentally effect you or your teamates or slowly disease you, burying them can take a long time...and burning them lets people...or zombies know where you are. Multiplayer ofcourse is neccesary . Need to keep eachother safe, barracade buildins and store your items. But you never know if one of them may "turn" And ofcourse the game has crafting and stat building! Learn to fight zombies better, build shit, and treat wounds.
A short video was uploaded by http://www.youtube.com/user/lemmy103 , it's not much since the game is still developing, but it's something!
So what do you think so far? This is only some of the many things being worked on in the game, check out the blogs below for all the info and more pics. The game seems like it could keep my attention for a while, plenty of ninfty features. Leave a comment below on your thoughts.
http://www.projectzomboid.com/
http://theindiestone.com/binky/2011/03/15/first-look-at-our-zombie-apocalypse/
http://www.theindiestone.com/lemmy/index.php/2011/03/15/a-slightly-less-pathetic-game-announcement-with-screenshots/
- Source http://www.destructoid.com/project-zomboid-a-zombie-apocalypse-mmo-197401.phtml -
___________________________________________________________________________________
[UPDATED] Mar 29, 8:19 AM
In a recent interview , the developers stated the game isn't a MMO. That gaming news sources just started calling it that. They did say the multiplayer is up to 8 players (so far) and that every building/house/school/hospital can be entered.