Review: Steampunk Tower 2 Review It's Free Real Estate
Posted by: goukijones May 13, 2018 | 0 comments
Tagged: review tower-defense
View all stories by goukijones
---
I can't tell if I'm the good guys or the bad guys in this game. I have an automated steam turret that drops from a flying vehicle and murders a bunch of people. Who are probably scared to death about the giant machines falling out of the sky.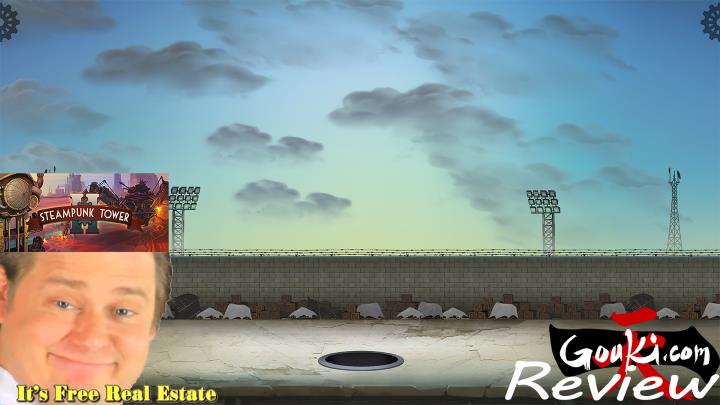 ---
As you progress through the game you eventually level up to a 5 story double sided tower full of custom-made turrets. Turrets that work against, land, air, heavy and quick enemies. The turrets have multiple paths for leveling up and different items to collect for them along the way. When I played through, I would only build the most damaging turrets. Later in the game that probably wasn't a good idea, I wish I would have made some of the faster firing versions. I eventually had to level up more turrets, but to level new turrets I had to clear new areas that I had never battled in before. I did not want the high-speed item that came from a different area so I just did not go there. I was leveling up the damaging turrets so in order to level I had to hunt down those parts. It's all good stuff, cool leveling feature.
The game's map is huge and there are plenty of things to unlock. There are bonus stages for an extra challenge. Honestly, there are parts of the map I didn't even fight on yet. It's like you can completely miss some areas unless you are trying to clear every board. The game even has some base building, but it's kind of generic. They just level up over time and I was only ever in a pinch with the green rock currency once. Most of those are on a timer though, so I just went and made a sandwich and boom! Hella green rock currency.
Here's a clip from the Gouki.TV live stream of me battling a boss. It's good stuff. Give this game a go on Steam.

713 Views
1 Stories

Release Date: Apr 19, 2018
Verdict: Buy It