Blog: World War Amiibo Tournament. Win over 25 different Rare & Unicorn Amiibo.
Posted by: goukijones Nov 18, 2015 | 0 comments
Tagged: amiibo anime-revolution blog las-vegas miracle-mile-shops tournament
View all stories by goukijones
---
December 12, 2015 @ Anime Revolution in the Miracle Mile Shops inside Planet Hollywood Resort & Casino. Las Vegas, NV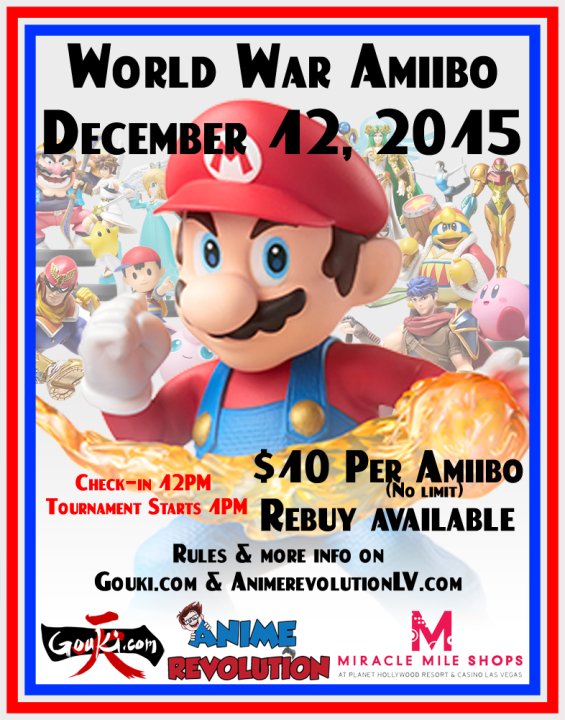 Anime Revolution Miracle Mile Shops at Planet Hollywood.
3663 S Las Vegas Blvd #25, Las Vegas, NV 89109
Sun-Thu 10am-11pm, Fri-Sat 10am-Midnight.
Register online @ http://tournaments.gouki.com/ or at either of the Anime Revolution locations.
Check-in time 12:00PM
Tournament start time 1:00PM
Prizes
Villager
Kirby
Samus
Wii Fit Trainer (JP)
Pit (JP)
King Dedede
Jigglypuff
Rosalina
Ike
Ness (JP)

Grand Prize. Emerald Cosmic Pikachu Amiibo Custom by Evilos. Signed & Numbered Limited Edition. Only 50 made.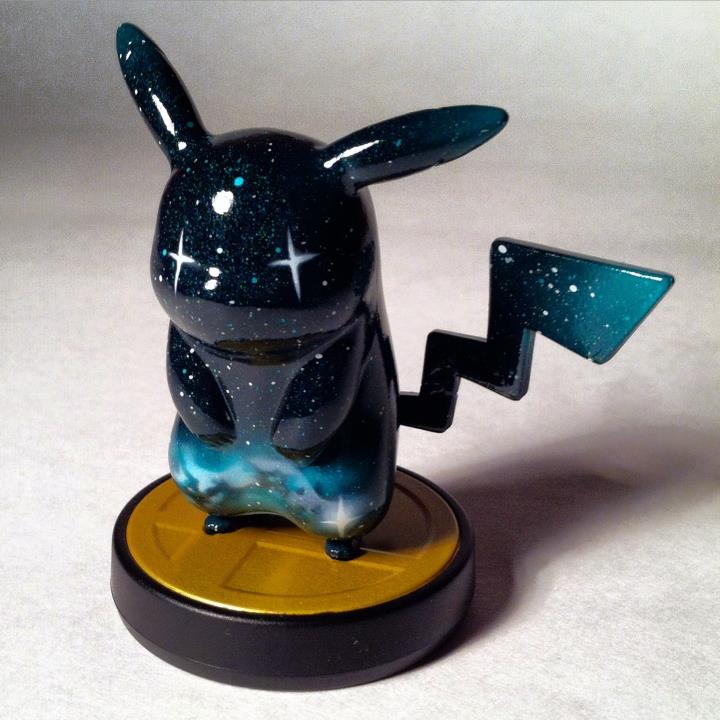 PLUS Your choice of 5 of the prize Amiibo.
Second Prize.
Your choice of 3 of the prize Amiibo left over from the Grand Prize.
Third Prize.
You will receive the final 2 Amiibo prizes.
Raffle prizes
You will receive 1 raffle ticket per entry. Includes rebuy.
30th Anniversary Classic Color Mario
Ganondorf
Palutena (JP)
Pink Yarn Yoshi
Light-Blue Yoshi
Shulk
Marth
Meta Knight (JP)
Bowser Jr.
Megaman aka Rockman (JP)
Dark Pit
Lucario
Wario (JP)
R.O.B., Mr. Game & Watch & Dunk Hunt Triple Pack
*Yoshi's Woolly World w/ Green Yarn Yoshi
**Chibi-Robo! Game w/ Chibi-Robo Amiibo
---
Special Rules
No effects allowed.
All Amiibo must be checked in & approved.
No items.
No Amiibo are allowed to save anything during the event.
Rules
Round 1
8 Amiibo Brawl
7 Minutes
6 Stock
$10 Entry per Amiibo. You may enter as many different Amiibo as you want.
Up to 128 Amiibo may enter. You may rebuy after your Amiibo has been eliminated during round 1.
8 Amiibo will battle in 1 game.
The winner of each round will be placed in the winner's bracket & second place in that same round will be moved into the loser's bracket of the top 32. Round 2...
Round 2
Top 32
1v1
2 out of 3 games. Double elimination.
4 Minutes
2 Stock
Sudden Death is active!
Grand Finals will be 3 out of 5 games.
*Rules subject to change.

21,852 Views
54 Stories

Release Date: Nov 21, 2014