Community Arthvader Fights: Darkstalkers Resurrection: Matches from Darkstalkers 3 3-25-3013
By Arthvader — March 25, 2013
Tags: arthvader-fights darkstalkers ranked-matches video xbox-live
---
Time to show off a variety of characters in this session of Arthvader Fights, featuring Darkstalkers 3.
Welcome once again to another installment of Arthvader FIghts. Once again, We will delve down into a series of Ranked Matches within Darkstalkers 3. This time around, Instead of using one character, I've decided to use different characters, including a secret character. I do hope you enjoy watching these matches as I do in fighting in them.
These Fights took place and uploaded on 3-25-2013:
---
Zeromus EG (Anakaris) Vs. Arthvader043088 (B.B.Hood)
Arthvader043088 (Hisen-Ko) (default color) Vs. Zeromus EG (Hsien-Ko) (Blue)
Arthvader043088 (J. Talbain) Vs. Futanari (Dimitri)
Arthvader043088 (D. Talbain) Vs. Mr Macabre1119 (Victor)
SpeedRazer (Lilith) Vs. Arthvader043088 (Hsien-Ko)
---
What do you think about these fights? Leave your comments down in the bottom. Don't forget to vote and share, and Don't Be a Jimmy!
Other Stories by Me:
Arthvader Fights: Darksalkers Resurrection: matches from Night Warriors 3-15-13
Borderlands 2: Mayhem Approaches Teaser Trailer
Arthvader Fights: Darkstalkers Resurrection: matches from Darkstalkers 3
Halo 4 Playlist Update 2/4/2013
Borderlands 2 Pro-Tip: How to glitch and beat Pete the Invincible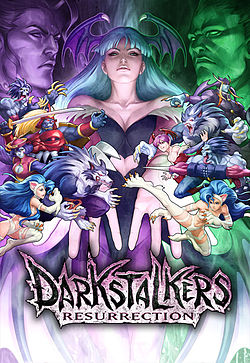 3,053 Views
7 Stories

Release Date: Mar 13, 2013
Trending Video Games