Community Arthvader Previews: Borderlands 2
By Arthvader — May 14, 2012
Tags: borderlands-2 playstation-3 preview xbox-360
---
A preview to what may be one of the most popular shooters out there this year.
With Borderlands 2 making its arrival in a couple of months, I would like to talk about some of the things that we could expect from this game. Does this game deserves the hype that it deserves? Let's find out:
Story:
The game takes place 5 years after the events of the first game, after the Vault Hunters has discovered the secrets of the Eridian Vault. a man who goes by the name of Handsome Jack has taken credit for the vault hunters' action and has amassed the wealth of the Vault, thus allowing him to take over the Hyperion Corporation and as such effectively gained dominion over Pandora. Promising that he will clean up the lawless planet, Handsome Jack embarks on a journey to eradicate Pandora's existing colonists and industrialize the planet. The Main Symbol for Handsome Jack's rule is a massive supply base in the form of an "H" on Pandora's moon, which is visible at all times, and can also deploy Hyperion troops at any point on Pandora.
The game begins with you, the player, fighting to the death in a gladiatorial tournament for a chance win a limitless cache of loot that is run by Handsome Jack. As you succeed through and gain notoriety, Handsome Jack sees this as a threat to his popularity with his people. At the end of the tournament, Handsome Jack decides to decline giving the reward to the player and leaves him/her for dead in a tundra. The Guardian Angel from the first game then appears to you and says that Handsome Jack need to be killed, guiding the player to find and rescue the four original Vault Hunters from Hyperion's clutches in order to accomplish this much needed task. Jack's intentions may be fully unknown, but it may have something to do with having to finding "The Warrior", an ancient evil that is located somewhere in Pandora.
Gameplay:
Gameplay will pretty much remain the same from the first game with a lot of new features. The enemy AI will be more intelligent, allowing them to respond to certain situation, whether it is to deploy a shield, taking cover when injured, healing their allies, or even using their allies as shields. They can even encourage teamwork, such as flanking, combined fire, as well as taking cover when injured, while some of the more "primitive" enemies, such as Psychos, will still embrace the old mentality of "Oh look, a Gun! I'll put myself in front of it!!". Some of the other new features includes an expansive and customizable weapons system, along with reworked four-seat drift-able vehicles and vehicles physics elements, and a dynamic quest systems. One good example of this is that if you were to take too long in saving a friend, he would be killed and the mission will fail, thus affecting the course of the main quest.
When it comes to the cast of characters, you have a really nice lineup of characters you can play as. Here's the list of characters with a very brief description of them:
Salvador

Class: Gunzerker
Special Ability: able to Dual-Wield guns

Maya

Class: Siren
Special Ability: Phaselock

Axton

Class: Commando
Special Ability: Turrets

Zer0

Class: Assassin
Special Ability: Able to duplicate and become invisible for a limited time, able to deal critical hits with sword.
Another cool thing is that you can completely customize your character in many ways, whether it's something basic as changing the colors of the clothes and hair, to actually changing the way your character looks with new hairstyles and new clothing. Like with the first game, as you level up in the game, you will be able to use skill points to unlock more abilities from three distinct specializations for each of the base characters.
Graphics and Sounds:
Like the previous game, Borderlands 2 will keep their cartoon-esque cell-shading graphic style. In my opinion, I really liked the graphic style of the first game, and to keep that for the second is a step in the right direction. Also, unlike the first game, in which we had loadable levels for each region, the whole world will be interconnected, allowing players to see the world from any point rather than staring at a "skybox".
As for the sound, I can't really say much about the sound. I figure it's going to have the same type of sound just like from the first game, So I'm hoping that we get some quality sound and music in this game.
Final Words:
In a sense, is this game worth getting? I say YES!!! I fully believe that this is going to be one of the best games of the year. What makes me really believe in this is the fact that this is one of the few shooters in this day and age (other than Battlefield 3) that I would really take the time to play. It's story and gameplay elements are what will keep me enthralled at the experience. I give this game a HYPE IT!!!!
Verdict: Hype It!!!!
---
Pre-order the game now to gain access to the Borderlands 2 Premium Culb.
With it, you'll gain access to the golden key, which can be used to get a rare treasure in the Santucary loot chest. You will also get the Vault Hunter's Relic, which will boost your gear hunting progess better, whether you are alone or with friends, as well as an assorted set of Gearbox golden guns.
Players who pre-order the game will also gain access to a fifth character class when it comes out a few months after the game is released. the character in question is called a "Mechromancer".
Her special ability will enable her to call on her pet called D374-TP (or Deathtrap - a hulking, floating machine made out of spare parts)
---
Also, here's a link to an interview with Jeramy Cooke, as done by Gouki.com's very own BatRastered from last year:
http://gouki.com/Story/Details/borderlands-2-pax-prime-2011-demo-impressions-and-interview
---
Tell me what you think. Vote up on the top, and leave your comments in the bottom. Don't be a Jimmy!!!
Other Stories done by me:
http://gouki.com/Story/Details/arthvader-talks-e3-wishlist-and-thoughts
http://gouki.com/Story/Details/harada-to-announce-more-characters-for-tekken-tag-2-at-e3
http://gouki.com/Story/Details/arthvaders-import-corner-mushihime-sama-futari-ver-15
http://gouki.com/Story/Details/skullgirls-thoughts-achievement-explainations-and-secrets
http://gouki.com/Story/Details/katsuhiro-harada-declared-new-street-fighter-producer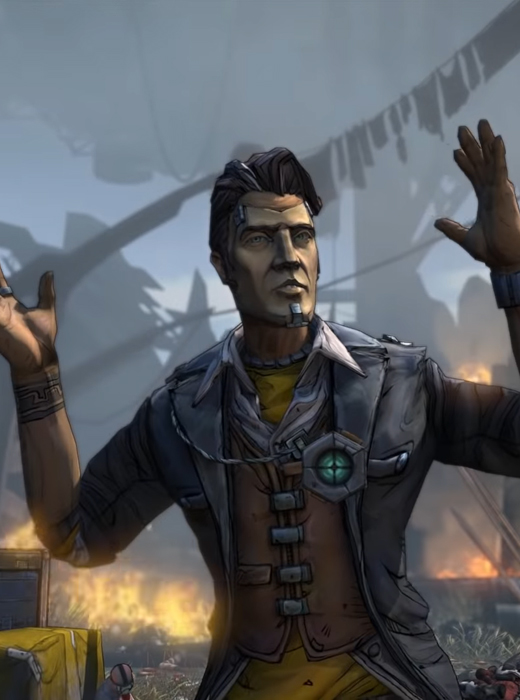 32,667 Views
83 Stories


Editor's Choice
Release Date: Sep 18, 2012
Trending Video Games