Community Skullgirls: thoughts, achievement explainations, and secrets
By Arthvader — April 17, 2012
Tags: blog psn skullgirls xbla
---
My thoughts on what I believe to be an awesome game. Achievements will be explained as well, and learn how to unlock the 10th color palette.
It's been almost a week since I've bought Skullgirls, and I have to say, I'm very impressed with how this game. For days I've been playing this game, getting to know more about the cast of characters, as well as knowing how the mechanics of the game works. To me, if feels like a mix of multiple fighting games, such as street fighter, the marvel vs. series, and the guilty gear series, all rolled up into one game. The roster is very unique, ranging from a grappler character that has a hat with giant arms, to a character that was based around 40s' or 50s' cartoons, to even a character that is pretty much an mixture of the entire cast.
Of the current roster, I have to say my favorite, and the one I'm planning to use the most, is none other than Valentine. Other than being a nurse, she is also a ninja. Plus, she reminds me of a lot of ninja characters I played with on other fighters, especially Chipp Zanuff from the Guilty Gear series, which is just about the reason why I immediately went ahead and started practicing with her. She has some very useful setups and moves, such as her poisons, which can cause passive damage, increase hit stun, or even cause input lag, a dash more similar to Chipp Zanuff's Alpha blade, to even a body bag Izuna Drop. The one thing that I could say about her that is even more unique is the ability to revive a dead teammate. This is a very useful technique, even if i need to save up a full set of meter.
I really do like the music that was put into the game. It was composed by none other than Michiru Yamane, the same person who composed the music for the majority of the Castlevania series, from Symphony of the Night and onward. At the same time, I really also like the art style used by Alex Ahab in this game. It gives off the vibe of an original, dark, deco world that I could appreciate.
And now, on to the Achievement Explanations:
Sküllgirls - Graduation day has arrived at last! Mrs. Victoria's so proud of you
How to unlock: This is unlocked by clearing the entire tutorial mode under training. pretty much self-explanatory.
Treads of Fate - Follow all threads of fate to their inevitable conclusions.
How to unlock: Pretty much self-explanatory as well. this will unlock as soon as you completed everyone's story mode. Do note that you'll gave to complete Filia, Cerebella, Ms. Fortune, Parasol, Painwheel, and Peackock's story to unlock Valentine's Story, and then beat Valentine's story to unlock Double's. Finish Double's Story to unlock the achievement.
An Ensembled Cast - There may be no I in "team," but there is in "variety."
How to unlock: this one requires setting up alot of custom assists. on the character select screen, when you select teams, after picking a character, you will be asked to pick an assist. select the third option, and make your own assist. it will take a while until the achievement unlocks. some people reported getting this achievement after anywhere between 7 - 50+ matches.
Prolox - Words are fun - expand your vocabulary
How to unlock: as you finish combos, you may notice a word under the number. There is a word for each number, and you will need to get around 60 - 80 words for this achievement to unlock.
Real Circus Damage - And now, for the main attraction... Grappling!
How to unlock: This is a character specific achievement involving Cerebella. the objective is to perform at least a total of 50 of her throws (regular, special, super). It doesn't need to be done in one match, as it keeps track of your overall progress.
The Kitchen Sink - Throw everything at them, including...
How to unlock: This is Peacock's character specific achievement. to unlock this achievement, you will have to use her qcb+P move to drop all the object that she could drop. there are three tiers of items that could fall, depend on how long you hold the button in. Here's the list of the items she needs to drop:

No Charge Objects:

Boot
Fish
Medicine Bottle
Tea Cup
Bowling Ball
Flower Jar
Bag of sand

1 ! Charge Objects:

Safe
TV
Spike Ball
Yukkuri! (Animated head with Japanese speech bubble)
Peacock Friend 1
Peacock Friend 2
Barrel (With turkey inside)
Sink

2 !! Charge Objects:

Spike Balls Barrage
Easter Island Moai
Piano
Elephant
Golden Monster Fridge
Steam Roller

Instant Hair Dash - Let your parasite feel the wind between his tendrils.
How to unlock: This is Filia's character specific achievement. what you have to do is air-dash cancel out of her attacks around 60 times overall. pretty basic.
Good Hunting, Commander - A good commander knows how to wield her forces effectively.
How to unlock: This is Parasol's character specific achievement. Your objective is to call on her egrets a total of 100 times, It doesn't matter which one you do, as it will all accumulate towards the achievement. here are the three commands:

Egret Call (Hold Back, then press Forward + Light Kick)
Egret Dive (Hold Back, then press Forward + Medium Kick)
Egret Charge (Hold Back, then press Forward + Heavy Kick)

Getting A Head In The Game - Sometimes you just need to relax and take the weight off your shoulders.
How to unlock: This is Ms. Fortune's character specific achievement. All you have to do is have Ms. Fortune take her head off for a total of around a hour. this is accumulative across all matches. to take her head off, use her QCB + P move. If she was interrupted in the middle of her s.MP, s.HP, or c.HP, then her head will drop as well.
Medical Board Will Be Notified - Your opponents aren't the only ones under the knife
How to unlock: This is Valentine's character specific achievement. You will have to use her lvl. 5 super move (Forbidden Procedure: Rebirth Ex Machina) to revive your teammate, as well as hit your opponent at the exact same time, around 30 times. The command for the move is this: QCB + ( (MP + MK) or (HP + HK) )
My Pain Will Be Visited Upon You - Sometimes you can take it, and sometimes you want to lash out.
How to unlock: This is Painwheel's character specific achievement. the objective is to deal out alot of damage using Painwheel's Lvl.3 super (Hatred Install). By activating Hatred Install (QCB + PP), Painwheel will be able to perform counter attacks whenever she gets hit. the easiest way to get this achievement (at least the was I did it) was against Cerebella. With Cerebella, have her activate the Lvl. 3 super Diamonds are Forever (QCB + PP). Have Painwheel stay a distance from cerebella when she put her hand on the ground for the super. Painwheel, already with Hatred Install activated, have Painwheel charge s.HP. if timed right, Painwheel would have asorbed the stronger part of Cerbella's super, and inflict a lot of damage. Follow it up immediately with Painwheel's Lvl.1 super Death Crawl (QBF +PP), and the achievement would have unlocked after you deal enough damage.
Toil and Trouble - A sesquidecemvir of seven simulacra synergizing simultaneously
How to unlock: despite the wierdness of the achievement description, this is Double's character specific achievement. What you need to do is pull of a combo that involves transforming into the entire cast. Here's a simple combo that can be done in the corner:

j.HP, s.LP, s.MP, s.HP, c.MK, s.HK, j.MK

transformations in order in combo: Painwheel, Filia, Peacock, Cerebella, Parasol, Ms. Fortune, Valentine
Before I go, I would like to mention how to unlock the four extra color palettes. here they are in order:
7th color: Finish story mode (have to do it with each character for this color)
8th color: Finish Arcade mode (Just like with the the 7th color, you will have to clear it with each character to unlock this color. the good news: if you play arcade mode with a team, then all the characters that was on the team will have this color unlocked as well.)
9th color: Win 25-30 Versus matches (online or offline, or both combined) you will have to do this with each character for this color as well
10th color: This requires an old-school fighting game code. in the main menu, choose local versus. when you are on the controller screen (where you select what side you want to be on), Input this code: for the 360: Down, RB, Left, LB, Y, B. For the PS3: Down, R1, Left, L1, Square, X. you should see the message (New color palette available) appear. this will unlock the 10th color for the entire cast. Do note that the old-school code I'm relating to is the Same Character code that was used on Street Fighter II back on the SNES.
Tell me what you think of this story and guide? Vote, and leave your comments in the bottom. Don't be a Jimmy!!
Other Stories done by me:
http://gouki.com/Story/Details/katsuhiro-harada-declared-new-street-fighter-producer
http://gouki.com/Story/Details/meet-the-last-skullgirls-character-double
http://gouki.com/Story/Details/potential-street-fighter-x-tekken-team-5-poison--yoshimitsu
http://gouki.com/Story/Details/potential-street-fighter-x-tekken-team-4-juri-han--hwoarang
http://gouki.com/Story/Details/steet-fighter-x-tekken-to-get-12-more-characters-on-ps-vita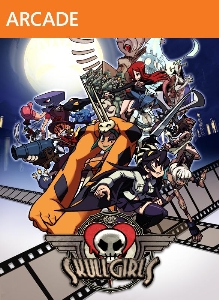 14,593 Views
18 Stories

Release Date: Apr 11, 2012
Trending Video Games