Community Arthvader Fights: Darkstalkers Resurrection: Matches from Darkstalkers 3 8-13-2013
By Arthvader — August 14, 2013
Tags: arthvader-fights darkstalkers video xbox-live
---
After 5 months, Arthvader Fights is back with more matches in Darkstalkers 3.
It's been over 5 months since I last did one of these. Welcome everyone to another Installment of Arthvader Fights. Here, we will find ourselves in a series of Ranked matches that I was involved in when I was playing Darkstalkers 3. In this installment, I pretty much sticked to Hsien-Ko, B.B. Hood, And J. Talbain, while pretty much only fighting two different opponents (game seems dead online, hoping that I can find more opponents for next time). I do hope you enjoy watching these Matches as much as I have in playing in them.
These Fights took place and uploaded on 8-13-2013:
---
runningbrave (Anakaris) Vs. Arthvader043088 (Hsien-Ko)
Arthvader043088 (B.B.Hood) Vs. DetLex (Bishamon)
DetLex (Lilith) Vs. Arthvader043088 (J. Talbain)
Arthvader043088 (Hsien-Ko) Vs. DetLex (Jedha)
Arthvader043088 (J. Talbain) Vs. DetLex (Felicia)
---
What do you think about these fights? Leave your comments down in the bottom. Don't forget to vote and share, and Don't Be a Jimmy!
Other Stories by Me:
Arthvader Fights: Darkstalkers Resurrection: Matches from Darkstalkers 3 3-25-2013
Arthvader Fights: Darksalkers Resurrection: matches from Night Warriors 3-15-13
Borderlands 2: Mayhem Approaches Teaser Trailer
Arthvader Fights: Darkstalkers Resurrection: matches from Darkstalkers 3
Halo 4 Playlist Update 2/4/2013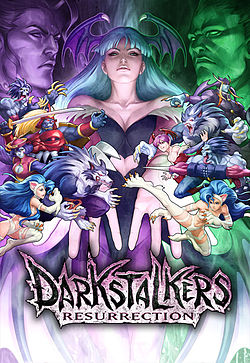 2,961 Views
7 Stories

Release Date: Mar 13, 2013
Trending Video Games