L.A. Noire
Tagged: la-noire rockstar-games team-bondi

12,966 Views
13 Stories

Release Date: May 17, 2011
L.A. Noire is developed by Team Bondi and published by Rockstar Games. Initially announced as only for the PlayStation 3, the game was later reported to also be scheduled for release on the Xbox 360. L.A. Noire is set in "a perfectly re-created Los Angeles" of 1947, with players being given an open-ended challenge to solve a series of murders.
As the title suggests, the game draws heavily from both plot and aesthetic elements of film noir - stylistic films from the 1940s and 1950s that shared similar visual styles and themes including crime, sex and moral ambiguity and were often shot in black and white with harsh, low-key lighting. The game uses a distinctive colouring-style in homage to the visual style of film noir. The post-war setting is the backdrop for plot elements that reference the detective films of the '40s, such as corruption and drugs, with a classical jazz soundtrack.
L.A. Noire is also notable for using Lightsprint's real-time global illumination technology, as well as a newly developed piece of technology called MotionScan, where the actor goes into an all-white room where 32 cameras surround him and record his performance from every angle, giving a 3D rendition of the actor's face.
---
L.A. Noire Gameplay Series Video: "Investigation and Interrogation"
---
Amazon Exclusive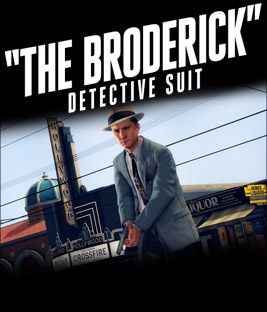 Pre-order L.A. Noire and get $10 off a future video game purchase, as well as the Broderick Detective Suit. The Broderick detective suit boosts your fist-fighting capabilities and resilience to damage.
---
GameStop Exclusive
A standalone case
20 Police badges
Pre-Order L.A. Noire with GameStop and receive a code to unlock the exclusive vice case, The Naked City and the Badge Pursuit Challenge.
The Naked City: In a standalone case from the main story, Detective Cole Phelps investigates the supposed suicide of a stunning fashion model.
Badge Pursuit Challenge: Unlocks 20 Police badges to find across Los Angeles. Collect all 20 to unlock more bonus items.
Online Customers : A code with instructions will be packaged with your game.
L.A. Noire - "The Naked City" Vice Case Pre-Order Video
---