Stories
Sort by: Most recent | Popular today | Popular this week | Most views all time | Most Liked Page 1 (1 - 3 of 3)
Tagged: fantasy-wrestling (x)
News

By: goukijones Jan 1, 2018 | 1 Comments
It's like Fantasy Football, but for WWE.
DropTheBelt.com enters its 7th WrestleMania season since the launch of our Fantasy Wrestling game on the internet. For years we did it on paper and we decided to put it on the internet to make it easier for us to use. The reaction from other wrestling fans about the site has been miraculous! DropTheBelt.com now has over 12,000 users. There are currently 393 active leagues for the WrestleMania 2018 season. There is also 45 match made leagues active. The matchmaking on the site is free. You can also buy a commissionership and for one price you can play with as many friends as you like in one private league.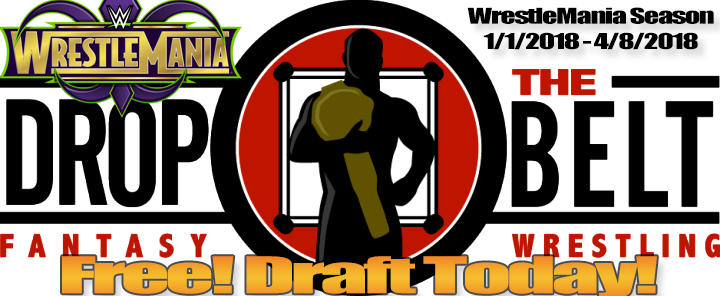 Read full story...
Blog
By: goukijones Apr 4, 2011 | 3 Comments
You can join and start your own Fantasy Wrestling League right now for free. This new online game is the most exciting way to watch the WWE. Sign-up today and participate in our free beta.
DropTheBelt's Free Online Fatansy Wrestling League is designed for you and your friend to enjoy. It's easy to play, just sign-up for DropTheBelt.com click the My Leagues button and form a league. It's gonna take at least 2 people to form a league, but from there you can set your own limit of teams and how many Superstars or Diva's are on each team. Even name your teams!
Organize a draft and input your team into the DropTheBelt league manager. From there scores and team totals will be auto populated after each show. FAA is also available through the site. All you have to do is sit back and watch. We keep score for you. You can see all of the great scenarios that you can get points for here, in our official Rule Book.
We encourage you to write stories on as well. Whether it be Pro-Wrestling news, a blog or perhaps something to pump up your league. Discuss trading or even new rules to add to the game. Please enjoy our new Fantasy Wrestling Online Game and DropTheBelt.com. Don't be a Jimmy!
If you have any questions, please leave a comment. A more detailed FAQ is on the way.
Blog
By: goukijones Mar 12, 2011 | 3 Comments
This is an exclusive Gouki.com LLC production. It will feature WWE Superstars and Divas. You can commission your own league or join an existing one. Please check it out and help us test our first ever game.
Build your own fantasy wrestling league on DropTheBelt.com. DropTheBelt.com is an official Gouki.com "other" site that is dedicated to all things professional wrestling.
The Fantasy Wrestling game has been in predevelopment for over six months and Gouki.com is proud to announce that we will be having an online beta soon. I would like to encourage everyone to come check it out, especially if you are a fan of the WWE.
You can follow then end of our current season now on DropTheBelt. There you can also check out the Rule Book and see how we've been keeping score on the shows.
So get over to DropTheBelt.com right now and register.
1