ModNation Racers Beta First Impressions
By goukijones — December 18, 2009
Tags: beta first-impressions modnation-racers psn
---
First thing I did was time trials. After the first lap the automatic ghost of your fastest lap pops up. After the first lap you are constantly racing yourself. That had me hypnotized instantly.
After my first race in the time trials, I investigated the little racing world built inside the game for the community to meet up and show off their stuff called the Modspot. Vending machines offer other user created gear and karts. Then I found the customizable shop to edit your own lil Jimmy. I spent about an hour just in that room. Built me a custom kart, named it "Gouki.com 001" Check the stats. Pimped my dude out with a fat gold crown on top of his head … "king-of-jimmys" is my PSN ID, check the stats yo!
Now I'm trying to get into a race and can't even get the time trials to load up. Fuuuuuuuuck. Restart the house.
OK going back online.
I love the control with the turbo. I'm in a lobby right now. I haven't even seen the weapons. Gotta get a race, but can't get an XP match to load. Going to try to time trial again, the competitive racing just won't load right now.
Racing other peoples ghosts get me excited Jimmy. This is Mario Kart 64 all over for me right now.
I've tried the XP race a few times now and just can't get into one. Impossible. Lost connection again. The load times are unbelievable. The time trials are super fun. I was just racing my ghost and then I smoked him by like 8 seconds. Now it's serious Jimmy!
At the end of the first day I created 3 different cars, 3 different Jimmys and did a lot of time trials. I could never get into an actual casual race or XP race. This "beta" really seemed like an alpha of just the Modspot.
Get it together here. Who's in charge of this? Sony? WTF PS3.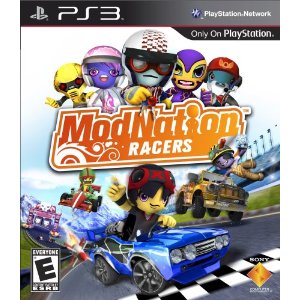 10,138 Views
12 Stories

Release Date: May 25, 2010
Trending Video Games