PAX Swag Bag Giveaway. Jimmy of the Month. Free Copies of Borderlands 2
By goukijones — September 10, 2012
Tags: blog freeish giveaway jimmy-of-the-month pax-2012
---
We're giving away PAX Swag Bags. Giving away free copies of Borderlands 2. Easy to enter, multiple ways to win. You can also bid on items. Plus free codes & DLC inside this story. Win Skullgirls for XBLA.
Jimmy of the Month August 2012
Apologies for not announcing this sooner. This should have been announced during PAX, but we were AT PAX and we were shitfaced.
Cinderkin
Shout out to Cinderkin. Nobody wrote more stories last month than Cinderkin and it's really great to have him back on Gouki. I got a 4X Gouki shirt waiting for you. And MAYBE a copy of SFxT on the Vita.
---
PAX Story Contest Winner
DragonKiss83
DragonKiss83 wrote the most relevant story about PAX.
http://gouki.com/Story/Details/wtf-is-grifball - 1 of the more disappointing announcements from PAX.
So here are you options. Select 1 of the Shirt & Swag Bag options or select a single option.
T-shirt #1 Borderlands 2 (XL,2XL Available)
T-shirt #2 Metal Gear Rising Revengeance. PAX Exclusive. (XLx2, 2XL Available)
T-shirt #3 XCOM (XLx3 Available)
You will also receive a swag bag with a ton of goodies. Like this ...
*And even more stuff not in any of these pictures.
Halo 4 Patch.
Batman Arkham City Welcome to PAX artboook & CD.
Magic The Gathering Planeswalkers Deck
Metal Gear Solid 4 Pins.
Avatar Doom 3 DLC.
Lost Planet Glowstick

*Not all of these items will be in the same bag.
OR
You can select any 1 item below.
League of Legends & Smite Skins with a silly LOL rubber bracelet thing.
Dota 2 Skin a Lanyard set.
Injustice Bandana
Aliens: Colonial Marines Avatar "Game Over Man" T-shirts. 2 Male & 2 Female codes. (1 Per Person)
Resident Evil 6 Flash Light.
---
PAX Swag Giveaway
After DragonKiss Makes his selection. We will giveaway 1 more bag during the last podcast of this month. The other will be placed on eBay with a starting bid of $1. That will happen sometime between now and the deadline.
We will do the same thing with all of the bonus items. For a chance to win the swag bag or any of the bonus items, leave a comment on this story or share this phrase on Twitter or FaceBook.
"I want to win free video games & stuff from @GoukiNews @GoukiJones #gouki gouki.com"
**Use the rest of the characters with your imagination.
For more chances to win. Leave a comment on our FaceBook page about what you want to win and why. Tweet me @GoukiJones and tell me you want me to send you a code or whatever. Swing by the stream (twitch.tv/goukijones) sometime during the next two weeks and chat me about those Resident Evil Flashlights. I will be picking people at random, starting now and in between the 29th to win this swag!
---
Borderlands 2 Giveaway. Jimmy of the Month September.
Win a copy of borderlands 2 from Gouki.com.
There is only 1 way to enter and 1 way to win this contest. Win Jimmy of the Month for September 2012.
Create a story on Gouki.com between now and September 29, 2012. Tweet your story to @GoukiNews. Link your story on our FaceBook page GoukiNews. If you don't have a Twitter or a FaceBook that's okay. Get a friend to do it for you. Or just do 1, I will understand.
Remember stories on Gouki can be about anything as long as it's video game related. Original stories are the best. Blogs, vlogs, your own art or cosplay, opinions on news, rumor talk, local video game events or tournaments, anything about video games is cool.
If there are 100 stories written by Gouki members before the deadline, we will giveaway a second copy of Borderlands 2.
Your stories must be approved by Gouki editors. Which is BatRastered or Myself. So don't be a Jimmy! Read the FAQ, look at other stories on Gouki.com and do it with passion.
---
How about some free codes?
Want to win a code for SkullGirls on Xbox 360? Tweet me. I'll select the funniest Tweet on September 29, 2012.
---
This is a giveaway/contest and Gouki.com reserves all rights. Rules, prizes & this story subject to change at anytime. Anybody abusing anything on Gouki.com will be banned immediately. We run a fair and legitimate operation here. Don't be a Jimmy. Thanks for playing.
We're serious about our giveaways and always try to do them bigger and better. Check out our previous contests and giveaways.
Create a story to win free games on Gouki.com. Vote, Comment and Share. Don't be a Jimmy!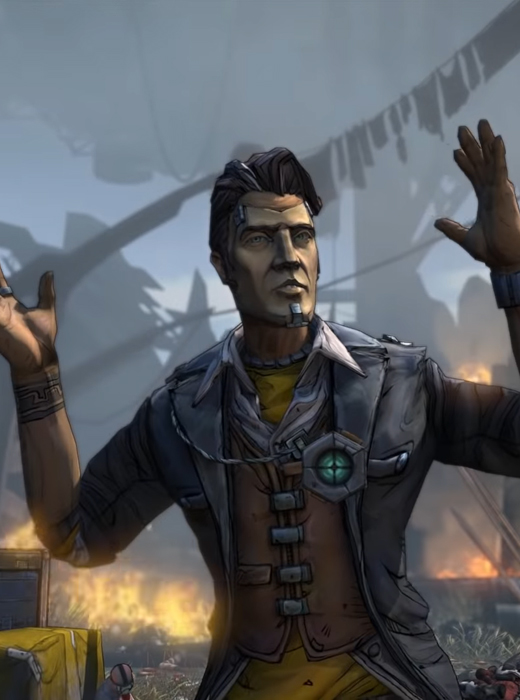 32,488 Views
83 Stories


Editor's Choice
Release Date: Sep 18, 2012
Trending Video Games