Dishonored Voice Cast has Susan Sarandon & Princess Leia
By goukijones — August 3, 2012
Tags: news
---
Bethesda taking this game very serious. Susan Sarandon is a pretty big name for a video game. Academy award winner Jimmy. Princess Leia, but billed as Carrie Fisher. Michael Madsen, of course, he has nothing better to do.
From Bethesda:
BETHESDA SOFTWORKS ANNOUNCES AWARD-WINNING CAST FOR DISHONORED™

August 3, 2012 (Rockville, MD) – Bethesda Softworks®, a ZeniMax® Media company, today revealed the all-star cast lending their voices to DishonoredTM, a new first-person action game from Arkane Studios in which the player takes on the role of Corvo, a supernatural assassin driven by revenge. Dishonored will feature an award-winning ensemble including Academy Award® winner, Susan Sarandon ("Thelma & Louise," "Dead Man Walking"), Golden Globe® winner, Brad Dourif ("The Lord of the Rings" trilogy, "One Flew Over the Cuckoos Nest"), Emmy® Award nominees Carrie Fisher (original "Star Wars" trilogy) and John Slattery ("Mad Men"), Michael Madsen ("Thelma & Louise," "Reservoir Dogs," "Kill Bill"), and Lena Headey ("300," "Game of Thrones"),

Susan Sarandon, an Academy Award winner and five-time nominee, will make her videogame debut as the former aristocrat, Granny Rags – an intriguing old blind woman now deranged after years of street life. Academy Award nominee and Golden Globe-winner Brad Dourif takes on the role of the inventor Piero, creator of the iconic mask worn by Corvo as well as a wealth of gadgets Corvo can use. Emmy winner and Hollywood-icon Carrie Fisher can be heard broadcasting government propaganda over loudspeakers throughout the city of Dunwall, where the game is set.

The all-star cast continues with John Slattery ("Mad Men," "The Adjustment Bureau") who takes on the role of Admiral Havelock, a Loyalist who helps Corvo on his quest, as well as Michael Madsen who brings his videogame voiceover experience to the role of Daud, a mysterious assassin. Chloë Grace Moretz ("Kick-Ass," "Hugo") portrays Young Lady Emily, the Empress' daughter who is kidnapped after her mother's death while Lena Headey joins the cast as Calista, Emily's caretaker. In addition to the star-studded voice cast, Composer Daniel Licht ("Dexter") lends his musical talents to create the game's original score.

"Having such talented actors voice Dishonored's compelling cast of characters adds a rich, powerful element to the game," said Raphaël Colantonio, president of Arkane Studios. "We want to draw people into this virtual world and make it feel real. This celebrated cast adds wonderful depth and credibility to the overall Dishonored gameplay experience."
---
Having a great voice cast is great. lol. You know, you're hoping that the dialog is boring and repetitive. Everything I've seen looks great so far and yes, I know I'm a Bethesda fan boy. I just played through Fallout 3 again and I love and that's what got me hoping I'd find another gem somewhere in Bethesda's catalog. That hasn't happened yet. Brink is going to go down in history as 1 of the biggest let downs in video game history. So much bullshit leading up to an absolutely horrible game. FUCK!
Sign me up for this, You'll be seeing Dishonored on the stream as soon as I get my hands on it. What's your take? Don't have one yet? Watch this video ...
Sorry about the Keighly, it's kind of his show. And perhaps that's the best way to show off the game.
Read my other stories about Dishonored.
http://gouki.com/Story/Details/dishonored-action-packed-daring-escapes-trailer
http://gouki.com/Story/Details/time-stamped-2-gameplay-videos-for-dishonored-released-today
Now tell me your thoughts. Or just pre-order it and get it over with.
Vote, Comment and Share. Don't be a Jimmy!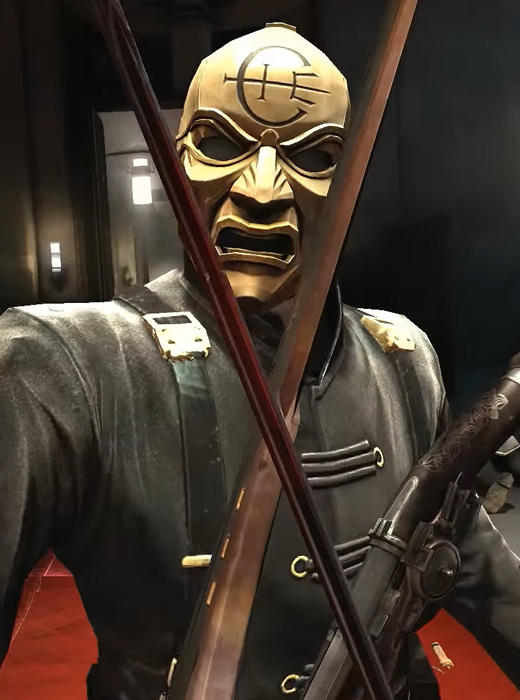 6,803 Views
16 Stories


Editor's Choice
Release Date: Oct 9, 2012
Original source.
Trending Video Games